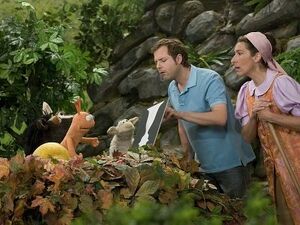 Picture
Segment
Description

Cold Opening
Wolle and Pferd argues about what they thin the image portrays. Wolle are convinced it's a vase and Pferd are convinced it's faces.

Intro

Scene
Pferd asks Nils for help. He tells Nils that he and Wolle have been fighting. Nils goes over to see whats wrong.

Scene
Pferd shows him the picture and tells him that Wolle thinks it's a vase when it's clearly two faces. After studying the picture Nils says that it's a vase. Frau Kowalski arrives and she's also asked what she can see, she agrees with Pferd that the picture shows two faces. Nils tries to show her the vase, but Frau Kowalski instead shows Nils the faces and most importantly she asks him were are the flowers you can't have a vase without flowers. Pferd decides that they need help from an arts expert, Finchen.

Scene
They show the picture to Finchen. He starts to say that she can see a vase, and as Nils and Wolle starts to cheer she interupts and takes a closer look at the picture before she declares that they have a interesting problem and starts to describe the optical illusion to them. They all take a closer look and are now able to see both the vase and faces. Pferd says to Wolle that the best thing about it all were that they were both right, at first Wolle agrees but then says that it depends on how you look at it they could also both be wrong. They then start to discuss if they were both right or wrong. Nils interupts them and says that both things are correct, and they both agree to be friends again.

Scene
Bert shows Ernie a drawing he made of a vase. Ernie asks Bert if he can improve the drawing a little, Bert gives him permission.

Film
Three siblings and there friends gets a guided tour in a museum. And afterwards they are gonna make thier own paintings.

Cartoon
(EKA: Folge 2351)

Muppets
Ernie is painting a portrait of Bert, but paints Bert with pink curly hair, glasses and a beard. When Bert gets angry about this, Ernie takes him behind the easel and puts pink curly hair, glasses and a beard on Bert. Afterwards a chicken comes by and admires the painting and says that Ernie really made a good likeness.

Cartoon
Drawing a pig.
(First: Folge 2407)

Muppets
Reporter Wolle reports from a natural science museum, were he wants to look at dinosaurs.

Animation
Bert and Ernie's Great Adventures: Ernie and Bert visit the beach with Bertina, Bert's surfer cousin. They are accompanied by Moose, Bertina's hyper-competitive friend. He makes every beach game they play a competition, until Moose and Bertina get taken by the Big Wave. Bert and Ernie go into Lifeguard-mode to rescue them.

Muppets
Grover, on a surfboard, demonstrates near and far.