Sesamstrasse
Plot
Sesamstrasse birthday party
Air date
January 8, 2013
Season
40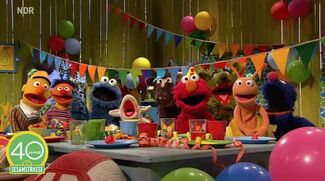 Picture
Segment
Description

Scene
Elmo is having a party for Sesamstrasse's 40th birthday and gets wrapped up in his decorations.

Muppets / Celebrity
The cast and some celebrity friends (Julia Stinshoff, Otto Waalkes, Annette Frier and Gustav Peter Wöhler) sing "Mah Na Mah Na."

Scene
the kids visit Elmo and they set up some music for the party.

Film
Kids talk about their favorite Sesamstrasse characters.

Scene
Elmo inflates the balloons, until they fill the screen.

Muppets
Game Show: Happiness Begins at 40
Guy Smiley gets the Sad Family out of their rut by having them count to 40.
(EKA: Folge 2592)

Scene
Julia visits Elmo and points out his cake in the oven. He tries to add frosting, but finds the dispenser not working. Julia takes a look at it and gets a face full of cream.

Muppets
Reporter Wolle visits the NDR offices (or rather, sneaks past the security guard) and meets some of the production crew, eventually meeting the head of the station.

Scene
Elmo thinks he has everything for the party, until he realizes he's missing something - his friends! All his friends arrive and sing "Happy Birthday to You."
| | |
| --- | --- |
| Previous episode: | Next episode: |
| Folge 2671 | Folge 2673 |