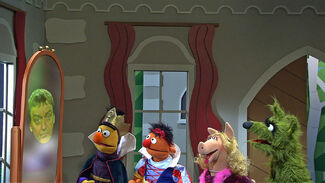 Picture
Segment
Description

Scene
Elmo surprises the viewer from inside a gift box.

Muppets / Celebrity
Ernie & Bert Märchensongs: Ernie and Bert reenact "Snow White" with Burkhard Schmeer as the mirror.

Scene
the kids say some tongue twisters with Elmo.

Film
A boy adds a bell, a bicycle horn, and some lights to his bicycle.




Scene
Elmo tries to balance a ball on his nose. When he finally balances the ball on his nose, he reveals to the viewer that he put glue on the ball so it sticks to his nose.
(EKA: Folge 2667)

Muppets
The Martians sings "Martian Family".
(EKA: Folge 2543)




Scene
Julia has an itch on her back that is hard for her to scratch. Elmo helps scratch Julia's back with his hand. When Elmo has an itch on his back, Julia returns the favor by scratching his back.




Muppets
Super Grover 2.0
On a farm, Super Grover 2.0 comes to the aid of a sheep, who has lost her knitting needle in a haystack. He dives into it, but is unable to find it. He calls upon his utility sock for some tools, first pulling out a bullhorn to call the needle out. He then finds a magnet, which attracts things made of metal (like the needle). He points it toward the haystack, pulling out a cow's bell and horse's bucket instead (who thanks the magnet instead of Grover). Just as he gives up, the magnet finally gets the needle out, much to the happiness of the sheep. Grover then pulls out the farmer's tractor, which drives off with Grover still hanging on.

Scene
Elmo is about to sneeze and he frantically looks for a handkerchief. When Elmo finds one and prepares to sneeze, he laugh and replied that he was just kidding. He uses the handkerchief to wave good-bye to the viewer.
| | |
| --- | --- |
| Previous episode: | Next episode: |
| Folge 2683 | Folge 2685 |