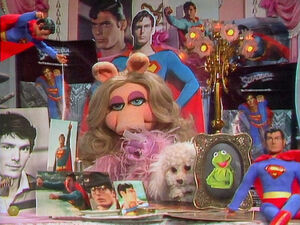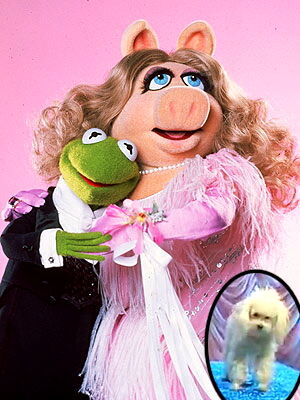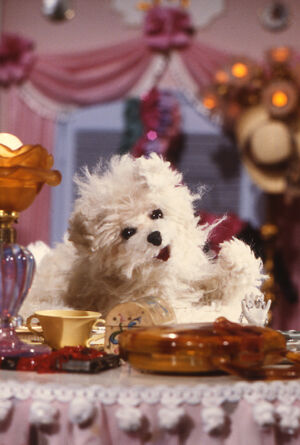 Foo-Foo is Miss Piggy's dog, who appeared in the fourth and fifth seasons of The Muppet Show. She speaks only in barks and other typical dog sound effects.
Puppeteer Steve Whitmire recalled how he got the role:
In 2011, during the promotion for The Muppets, Miss Piggy told People Magazine that she has had to "re-home" Foo-Foo. As Piggy explained, "[Foo-Foo] really didn't much care for Kermit, it seems... She seems to be prejudiced against green people. Anything the color green, she would nip at. So in order to have a future with my Kermie, I had to make that sacrifice." Piggy assured People that she is sending Foo-Foo to pet therapy, and she'll be happy to welcome her dog back home when she gets over her aversion to Kermit.[2] She did return, however, in Muppets Most Wanted, hopefully indicating that the therapy was successful.
The Foo-Foo puppet made a few appearances on The Jim Henson Hour in the recurring "Fashion Dolls" sketch, where the dog was called Freddie. She also made a cameo in Kermit's Swamp Years.
According to The Muppets Character Encyclopedia, Foo-Foo has siblings named Oui-Oui, Poo-Poo, Num-Num, Goo-Goo, and Fred.
Performance
On The Muppet Show, Foo-Foo was portrayed both by a puppet and a live dog. A 1979 issue of The Muppet Show Fan Club newsletter (vol. 2, no. 2) provided a behind-the-scenes scoop:
According to Rollie Krewson on the podcast Below the Frame, the owner of the live dog was "our prop lady... she had worked really hard on training it, and then I had to kind of match it, Muppet-style."[3]
Filmography
Book appearances
Sources