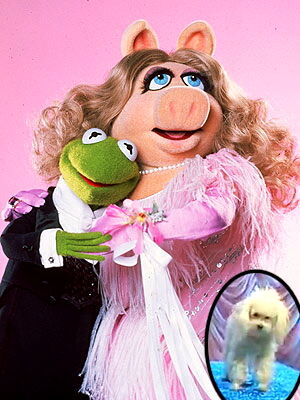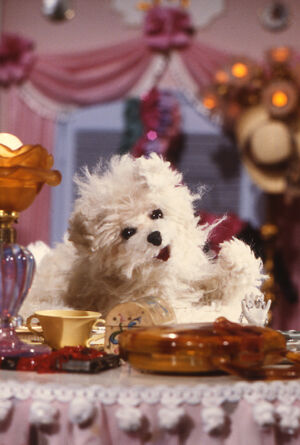 Foo-Foo is Miss Piggy's dog, who appeared in the fourth and fifth seasons of The Muppet Show. She speaks only in barks and other typical dog sound effects.
Puppeteer Steve Whitmire recalled how he got the role:
In 2011, during the promotion for The Muppets, Miss Piggy told People Magazine that she has had to "re-home" Foo-Foo. As Piggy explained, "[Foo-Foo] really didn't much care for Kermit, it seems... She seems to be prejudiced against green people. Anything the color green, she would nip at. So in order to have a future with my Kermie, I had to make that sacrifice." Piggy assured People that she is sending Foo-Foo to pet therapy, and she'll be happy to welcome her dog back home when she gets over her aversion to Kermit.[2] She did return, however, in Muppets Most Wanted, hopefully indicating that the therapy was successful.
The Foo-Foo puppet made a few appearances on The Jim Henson Hour in the recurring "Fashion Dolls" sketch, where the dog was called Freddie. She also made a cameo in Kermit's Swamp Years.
According to The Muppets Character Encyclopedia, Foo-Foo has siblings named Oui-Oui, Poo-Poo, Num-Num, Goo-Goo, and Fred.
Performance
On The Muppet Show, Foo-Foo was portrayed both by a puppet and a live dog. A 1979 issue of The Muppet Show Fan Club newsletter (vol. 2, no. 2) provided a behind-the-scenes scoop:
"Can you tell which is the live dog and which is the puppet? Miss Piggy's new dog, Foo-Foo, is not really one puppy, but two. The one on the left is a puppet, modeled on the live dog on the right. It took a long time to find a puppy small enough to be in scale with Miss Piggy. The live Foo-Foo was born on December 13, 1978. She is a special sort of toy poodle and is one of the last ten of her particular line, a line bred down to the smallest possible size from a standard poodle. Foo-Foo is still growing, and as she grows, the puppet Foo-Foo will be rebuilt to match. When fully grown, she will still be less than nine inches tall. Watch carefully when Foo-Foo is next on the show -- if she's running around, it will probably be the live version. If she's reacting in close-up, it will probably be the puppet... but you can't be sure...!"
Filmography
Book appearances
Sources
Community content is available under
CC-BY-SA
unless otherwise noted.