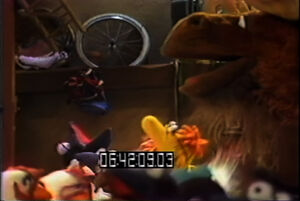 "Foo-Foo Phooey" is one of the fifteen unaired episodes of the short-lived series, Little Muppet Monsters. The episode was not completed before the series was canceled, but is known to feature "Fozzie's Comedy Corner," and animated segments of "Pigs in Space," "Frog Scouts" and "Kermit the Frog, Private Eye." It also features the original song, "Pooch on the Loose."
Scooter entrusts the monsters to watch after Foo-Foo while Miss Piggy goes out. Tug is less than thrilled, especially when she gets in the way of his acts for their show. In the aftermath, they discover Foo-Foo has gone missing. As Nicky Napoleon and His Emperor Penguins play a tune, Foo-Foo flies out of the tuba (allegedly being put in there by Tug).
On his way down from Kermit the Frog's office, Tug stumbles into their craft supplies, making him a total mess. Foo-Foo leaps into as well, making Tug see her true value. He allows her to join their closing number. Scooter comes back to collect Foo-Foo, where the monsters tell him Foo-Foo can hang out with them anytime.
Cast