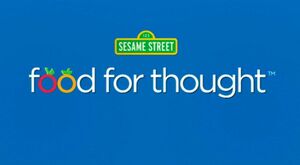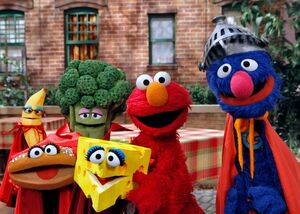 Food for Thought: Eating Well on a Budget is a Sesame Street education resource kit released in December 2010, designed to help families make healthy and affordable decisions when picking out food. The video portion stars some of the Muppet characters, featuring a quartet of new characters, the Super Foods. The video was funded in partnership with United HealthCare and the Merck Company Foundation. The video is available in English and Spanish.
In the program, Super Grover finds himself in several food-related situations where he can't seem to help out. He constantly runs into the Super Foods, who one-up up in helping Elmo, Rosita and Baby Bear learn how healthy food can help them in their daily lives. In between the scenes are films featuring families learning about healthy foods.
The Muppet scenes from the video were incorporated onto the actual show in episodes 4230, 4604, and 5113. These episodes omit the section featuring the Bear family and feature a retaped version of the ending song that doesn't include Baby Bear.
Growing Hope Against Hunger was a followup to this special.
Credits
Executive Producer: Christina Delfico
Co-Executive Producer: Kevin Clash
Head Writer: Joey Mazzarino
Writer: Christine Ferraro
Director: Scott Preston
Starring the Muppets of Sesame Street:
Senior Creative Consultant: Kevin Clash
Associate Director: Ken Diego
Production Designer: Bob Phillips
Technical Director: Tom Guadarrama
Music Director: Bill Sherman
Assistant Music Director: Joe Fiedler
Vocal Music Director: Paul Rudolph
"The Most Important Meal of the Day" Music and Lyrics by Tony Geiss
Lyrics to the Following Songs by Christine Ferraro
Additional Music Composed by Joe Fiedler, Bill Sherman, Mark Schultz & Dan Vitco
Jim Henson's Creature Shop
Sesame Workshop Vice President, Outreach and Educational Practices: Jeanette Betancourt, Ed.D.
Sesame Workshop Executive Vice President, Education, Research and Outreach: Lewis Bernstein, Ph.D.
Cameras: Shaun Harkins, Frankie Biondo, Jerry Cancel
Audio Utility: Gordon Price
Special Guests: Chef Art Smith, Chef Lee Anne Wong
Sound Effects: Dick Maitland, CAS
See also
External links