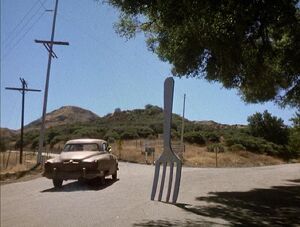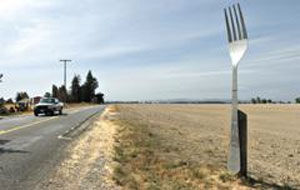 The Fork in the Road is a navigational aid used in The Muppet Movie. During the song "Movin' Right Along," Kermit instructs Fozzie Bear to turn left at the fork in the road. To Kermit's surprise, there is an oversized kitchen utensil on the road to Hollywood, signaling a left turn.
The Fork in the Road has become a familiar image, used in promos for the film and on the site map for Muppets.go.com. According to Muppet Movie director James Frawley, the Fork is still stored in his garage.[1]
In the summer of 2006, plumber and metal artisan Del Hollingsworth took inspiration from the film, and painstakingly created his own 10 foot fork. This was then placed on an old mile marker post across from the artist's house in Lebanon, Oregon. Hollingsworth has thus been able to give directions by telling visitors to watch for "the fork in the road."[2]
Sources