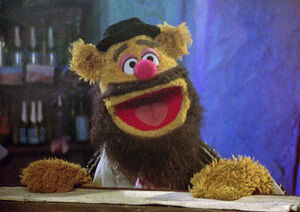 Rules
The Muppet Wiki Forums are used for the express purpose of discussing topics directly related to the wiki. We have three boards under which all topics are categorized: Article Content, Wiki Administration, and General Discussion. Please read the descriptions for each and choose the board that best fits your needs.
We love the Muppets, and you must love them too or else you wouldn't be here. However, this is not the space for fan chatter, favorite lists, fan fiction, or other topics unrelated to the wiki. Please seek out one of the many Muppet fansite forums or social media outlets for these purposes.
If you are not a regular wiki editor, please refrain from participating in discussion meant to dictate wiki policy. Visitors are welcome to work with the community under Muppet Wiki's standard practices, after which time it would be appropriate to take part in wiki conference.
Commercial links for products and soliciting users for material of any kind is strictly forbidden. Questions concerning information about products are welcome; someone here should be able to point you to our article about the item if it's something we've covered.
When starting new threads, or responding with information about any given topic, help out your fellow collaborators with as much information as possible. Links to articles on the wiki are helpful, as are sources for new claims. If you have pictures or screenshots that will illustrate your point, feel free to include them in your post. Videos are best linked to rather than adding them to the wiki with Fandom's Add Video tool unless we expect to use the embedded video on an article.
Please stay on topic. Posts that are unrelated to the thread are subject to deletion. If you have a separate question or point you'd like to make, feel free to reach out to that contributor on their Message Wall or start a new thread.
If you have any questions or concerns, please reach out to one of the admins. For further information about standard Muppet Wiki practices, please see our Policies and Guidelines.
Etiquette
Remember to end your post with four tildes ~~~~ to sign your name.
Add your first name to your custom signature at Special:Preferences so that we can communicate with one another as colleagues might.

P

l

e

a

s

e

d

o

n

'

t

u

s

e

f

l

a

s

h

y

c

o

l

o

r

s

o

r

s

t

y

l

e

s

a

s

t

h

e

y

t

e

n

d

t

o

d

i

s

t

r

a

c

t

f

r

o

m

t

h

e

f

l

o

w

o

f

c

o

n

v

e

r

s

a

t

i

o

n

. A typical signature set in your Preferences might look like this (the wiki software will fill in the time and date automatically when you sign with four tildes):
—[[User:Username|Name]] <small>([[User_talk:Username|talk]])</small>
To facilitate a natural reading flow, indent replies with one more colon : than the reply before it. Start a new indent cycle after six colons.
Once you've created your thread, be sure to follow it so you get an email notification when someone replies (provided you have this enabled in your email preferences).
Please do your best to finalize your message before saving it. Just like on a regular wiki article, going back to edit your text immediately increases the risk of causing an edit conflict, since someone may be trying to respond at the same time.
---
Posts
To start a thread, select one of the following three sub-forums (Etiquette and Rules below):
Recent
Most recent threads in all three sub-forums:  PURGE TO UPDATE 
Forum Name
Last Edit
Last Author
Sesame production date queries
12:45, 1 March 2021
Splurge
TMS UK Airdates
09:30, 1 March 2021
David French
Cuts to The Muppet Show on Disney Plus
03:17, 1 March 2021
GrantHarding
TMS Ep. 205 - Poster
05:59, 27 February 2021
Scarecroe
Cursing Muppets in foreign dubs
21:39, 26 February 2021
GrantHarding
Muppet Show Synopses
13:30, 26 February 2021
MuppetDude
Caroll Spinney characters
12:57, 18 February 2021
Splurge
Sesame song spoofs
00:20, 18 February 2021
Scarecroe
International Dinosaurs dubs
17:51, 16 February 2021
Aleal
Sesame Street segment lists 2.0
19:39, 7 February 2021
Scarecroe
Wilkins maintenance
11:51, 1 February 2021
Scarecroe
Reporter Kermit on CBS
18:59, 31 January 2021
Scarecroe
The Muppet Show Episode Guide
20:02, 25 January 2021
MuppetDude
Reporter Kermit photo ID
13:49, 23 January 2021
Scarecroe
Oscar and Maria, sitting in a tree
05:04, 20 January 2021
MuppetDude
Episodes adapted in The Muppet Gallery booklet
22:42, 18 January 2021
Scarecroe
When to use the "first" option in a song template box
04:08, 18 January 2021
Aleal
Worthington, again
14:03, 14 January 2021
Scarecroe
Rare WNET PBS signoff with Big Bird
20:17, 11 January 2021
MuppetDude
Old Viral Videos Page
08:08, 7 January 2021
Jbrangwynne53
Tony Geiss Archives
22:16, 4 January 2021
Scarecroe
Page rename proposal
21:34, 31 December 2020
GonzosNoze
Sesame Street closing signs - EKAs and Firsts?
20:49, 31 December 2020
MuppetDude
Snuffy Through the Years
14:17, 28 December 2020
MuppetDude
HBO Max credits
23:16, 24 December 2020
Aleal
Christmas is Number One
21:28, 24 December 2020
Oscarfan
Raphael Sbarge on Sesame Street
15:00, 23 December 2020
BradFraggle
38,000 articles!
15:12, 21 December 2020
Scarecroe
Filming Locations
14:50, 21 December 2020
Scarecroe
New category for Sesame arcs
19:49, 20 December 2020
TimzUneeverse
Did this segment air? Big Bird Rhymes Hooper (Sequel)
17:56, 13 December 2020
Oscarfan
Another Caroll Spinney audio character/honorable mention?
14:31, 12 December 2020
MuppetDude
Sesame Stories poster origins
13:55, 12 December 2020
Scarecroe
Wiki Milestones
23:05, 11 December 2020
Antsamthompson9
Hello How Are You
12:28, 10 December 2020
Scarecroe
Same segment, different picture
02:46, 8 December 2020
MuppetDude
McDonald's 2002 Muppet Show Plush
22:58, 1 December 2020
Scarecroe
Recent Social Media Videos
17:21, 23 November 2020
BradFraggle
File description page and linking to images
00:54, 17 November 2020
Scarecroe
The Saga of Sally
00:30, 17 November 2020
Croebot
Connections
00:06, 15 November 2020
Scarecroe
A Writer and Her Horse
23:48, 5 November 2020
MuppetDude
Forgetful Jones breakfast song: unaired?
15:25, 31 October 2020
Scarecroe
Matt and Sprocket on NBC
23:57, 13 October 2020
Feelings and other theme categories
21:34, 9 October 2020
Sack-body Muppet cleanup
17:24, 9 October 2020
Photos/set dressings in TMS
14:41, 8 October 2020
The Count at Obama's 2013 inauguration
12:29, 3 October 2020
The Muppet Show - Season DVD Packaging Covers
23:01, 2 October 2020
Foo-Foo's gender
15:39, 2 October 2020
Welcome to the Wiki Administration Forum!
18:15, 1 October 2020
Welcome to the General Discussion Forum!
18:15, 1 October 2020
Welcome to the Article Content forum!
18:15, 1 October 2020
The Monster at the End of This YouTube Video
18:15, 1 October 2020
Spam Filter?
18:14, 1 October 2020
Snuffy in the sandbox
18:14, 1 October 2020
Sesame Street writer NAS
18:14, 1 October 2020
Peter Linz as Robin
18:14, 1 October 2020
Muppet Babies end date
18:14, 1 October 2020
Image searching help
18:14, 1 October 2020
Forum Migration
18:14, 1 October 2020
Dot Bridge (different color variations)
18:14, 1 October 2020
Dinah! Songs
18:14, 1 October 2020
Cyndi Lauper and Rizzo the Rat
18:13, 1 October 2020
Creation of pages for Street Story appearances of SS Muppets
18:13, 1 October 2020
Caroll in "Good Morning Starshine" and "Before and After"
18:13, 1 October 2020
AM in Episode 2220
18:13, 1 October 2020
A partial Sesame repeat
18:13, 1 October 2020
Community content is available under
CC-BY-SA
unless otherwise noted.