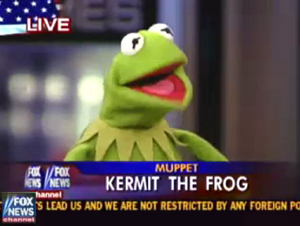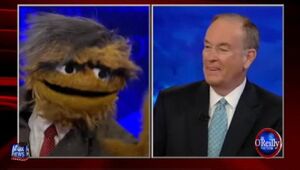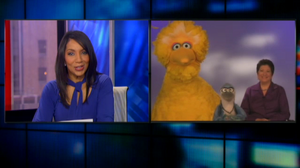 Fox News Channel is a cable news channel owned by Fox Corporation. Created by Rupert Murdoch in 1996, the channel is now available in 102 million households in the U.S., and has featured shows such as The Live Desk, Hannity & Colmes, Fox & Friends and The O'Reilly Factor. One of the network's sister-stations is the Fox Business Network.
Appearances
After Episode 4160 of Sesame Street mocked Fox News with Grouch news network "POX News" ("a trashy news show") Bill O'Reilly commented that "we may have to ambush Oscar." On the November 24, 2009 installment The O'Reilly Factor, Sesame Workshop Executive Vice President Sherrie Westin appeared to explain to O'Reilly that Sesame Street frequently relies on parodies in order to engage parents and encourage them to watch with their children and that being trashy is a compliment to a grouch. Westin then introduced O'Reilly to Spill O'Reilly, who explained that much like Fox News, grouches are "fair and balanced"- they hate people from every political spectrum.
On September 22, 2011, Elmo, Cookie Monster and Carol-Lynn Parente appeared via satellite in an interview for FoxNews.com Live to promote the 42nd season of Sesame Street. (video)
References
On Episode 4160 of Sesame Street, Oscar has been reporting for GNN, the Grouch News Network, which features "All grouchy, all disgusting, all yucky news, all the time." Because all the stories keep backfiring on Oscar (happy endings for Sleeping Beauty and her Prince, Cookie Monster breaking a cookie but realizing he now has two cookies to eat, etc.), Grundgetta calls the station and announces that she is going to watch Pox News, which is a true "Trashy News Show."
Notes
Ami Horowitz produced a short documentary, released on the FOX News website, with misinterpretations of statistics about rape frequency. The film's introduction of the country and its culture includes footage of the Swedish Chef from The Muppet Show. An interview with Horowitz about the film on the FOX News seriesTucker Carlson Tonight was indirectly cited by President Donald Trump in a 2017 rally speech.
See also
External links
Community content is available under
CC-BY-SA
unless otherwise noted.