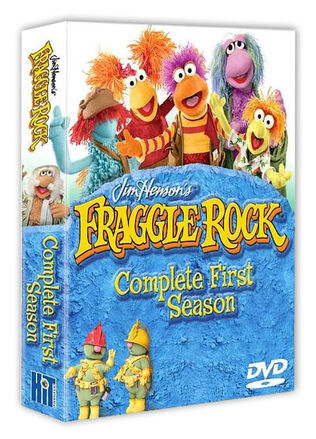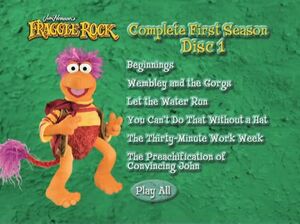 Fraggle Rock: Complete First Season is a 2005 five-disc DVD box set of the first season of Fraggle Rock. The set includes 24 complete episodes, which originally aired in 1983.
Disc Features
Episodes
Disc 1
Disc 2
Disc 3
Disc 4
Disc 5
Bonus Features:
Other Features
Menus and Packaging
The original box set from HIT Entertaimment featured an embossed cover with texturing on the rock face and Fraggle Rock logo. The five discs are enclosed in a large multipage digipak that opens like a book to hold a disc on each page.
The box set also included a replica of Jim Henson's notepad featuring Henson's handwritten notes on "Woozle World" (the concept which would become "Fraggle Rock")
The first season was re-released in 2013 by Gaiam Vivendi Entertainment with new cover and packaging design in a more traditional DVD poly-box.
The original discs and menus feature a photo of one of the five main Fraggles, with a colorful rock-textured background. The menus play an instrumental version of the Fraggle Rock Theme.
Edits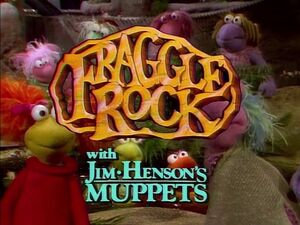 Unlike the previous single-disc DVD releases of Fraggle Rock from HIT Entertainment, the original Fraggle Rock logo is shown during the opening at the beginning of every episode. All twenty-four episodes are uncut with separate opening and closing credits; the Jim Henson Company logo from the mid-1990s is used on the closing shot.
In the original HBO broadcasts at the end of the theme song, Boober usually proclaimed, "Down at Fraggle Rock." However, the other characters also tried the line in early episodes. Two of these alternate versions actually aired - featuring Wembley (in "The Terrible Tunnel") and Gobo (in "The Finger of Light"). These two original openings are not included in this set and are the only alterations made to the episodes.
Releases
Notes
External links