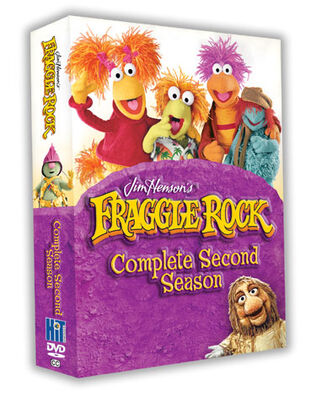 Fraggle Rock: Complete Second Season is a 2006 DVD box set collecting the 24 episodes of the second season of Fraggle Rock. The episodes originally aired in 1984.
Disc Features
Episodes
Disc 1
Disc 2
Disc 3
Disc 4
Disc 5
Bonus Features:
Other Features
Menus and Packaging
The original box set from HIT Entertinament featured an embossed cover with texturing on the rock face and Fraggle Rock logo. The five discs are enclosed in a large mupitpage digipak that opens like a book to hold a disc on each page.
The original box set also included a replica of the original Fraggle Rock pitch book illustrated by Michael K. Frith.
The second season was re-released in 2013 by Gaiam Vivendi Entertainment with new cover and packaging design in a more traditional DVD poly-box.
The original discs menus feature a still photo of various characters (Gobo and Red on disc 1, Wembley on disc 2, Junior Gorg on disc 3, Doozers on disc 4, and Boober and Mokey on disc 5). The menus play an instrumental version of the Fraggle Rock Theme.
Edits
On the first disc, two episodes, "Wembley's Egg" and "Boober's Dream" had the replaced logo and the title of the episode is seen, as used on the HIT Entertainment DVD release of "Down in Fraggle Rock".
During the bonus feature, "Docs & Sprockets", the original openings for the French and UK co-productions are shown, however the German version of the opening is not present. Also, the UK opening only shows the first half of the opening sequence before fading out.
Releases
External links
Community content is available under
CC-BY-SA
unless otherwise noted.