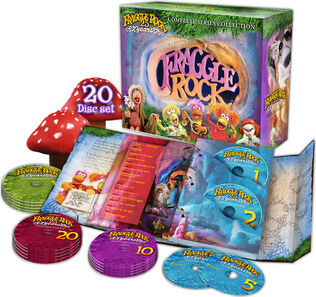 Fraggle Rock: Complete Series Collection is a 2008 DVD box set that contains all 96 episodes of Fraggle Rock, plus hours of behind-the-scenes bonus features distributed over 20 discs.
Discs 1-15 are re-releases of the content from the first, second and third season box sets released from 2005-2007. Discs 16-20, which include the fourth season episodes and all-new bonus features, were only available on this set at first, but were re-released a year later as a stand-alone set.
According to Lionsgate marketing VP Kristin Moss, the packaging is meant to be displayed: "On the front we have special printing and techniques that were created to match this really vibrant color of the inside of the Fraggle Rock world. And then inside the box has 20 discs, and the overall piece takes over two hours to assemble, each individual box, and it's all done by hand. So again, it's something that's taken very carefully and very special consideration to create a piece that's both collectible and really cool for, you know, all the fans out there.[1]"
Content
Disc 1: Season 1
Disc 2: Season 1
Disc 3: Season 1
Disc 4: Season 1
Disc 5: Season 1 Bonus Features
Disc 6: Season 2
Disc 7: Season 2
Disc 8: Season 2
Disc 9: Season 2
Disc 10: Season 2 Bonus Features
Disc 11: Season 3
Disc 12: Season 3
Disc 13: Season 3
Disc 14: Season 3
Disc 15: Season 3 Bonus Features
Select original HBO promotional spots.
Easter Eggs: 4 international postcards; Michael Frith discusses the development of Wander McMooch.
Disc 16: Season 4
Disc 17: Season 4
Disc 18: Season 4
Disc 19: Season 4
Disc 20: Season 4 Bonus Features
Let the Music Play featurette
Directing the Fraggles featurette
The Inner Gorg: Interviews with performers inside the costumes
Designing the Puppets: Interviews with puppetmakers
You Cannot Leave the Magic: Last day of Shooting
Celebrating Fraggle Rock: Excerpts from wrap party
Dance Your Cares Away: Evolution of Fraggle Rock Theme Song
Discs 21 & 22: 2013 30th Anniversary Edition only
Recently Discovered Additional Interviews
Other Features
Original Fraggle Rock illustration poster
Releases
Lionsgate reissued the 20-disc set in a smaller, more traditional, and less elaborate box in 2009.
In honor of the 30th anniversary of Fraggle Rock, the set was re-released by Gaiam Vivendi Entertainment on May 14, 2013. The main disc content and features are the same, and new extras were added, including two bonus discs with the complete animated series and newly discovered interviews, a Red Fraggle plush key chain, and a new exclusive Fraggle Rock graphic novel.
Notes
A new short starring Red Fraggle was originally planned to be produced as a special feature, but was dropped due to time reasons.[2]
See also
Sources
↑ The Jim Henson Company Podcast 2008-09-17.
↑ Bacciocco, Grant, The Jim Henson Company Podcast episode 40
Reviews
Community content is available under
CC-BY-SA
unless otherwise noted.