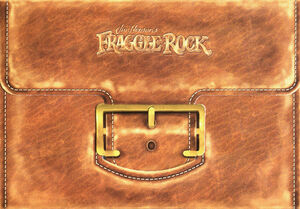 Fraggle Rock: Complete Third Season is a 5-disc DVD release of the third season of Fraggle Rock. The set includes 24 episodes, which originally aired in 1985 and 1986.
Disc Features
Disc 1
Disc 2
Disc 3
Disc 4
Disc 5
Other Features
Menus and Packaging
The original box set from HIT Entertinament/Fox featured an embossed cover with texturing on the rock face and Fraggle Rock logo. The five discs are enclosed in a large mupitpage digipak that opens like a book to hold a disc on each page.
The original box set also included a portfolio with re-printings of Michael K. Frith's original artwork.
The third season was re-released in 2013 by Gaiam Vivendi Entertainment with new cover and packaging design in a more traditional DVD poly-box.
The original disc menus feature a still photo of various characters; while disc 5, containing the bonus features, is organized into sections on a map of Fraggle Rock (with the bonus features located such areas and sub-menus as "The Cave of Fraggle Tales," "The Cavern of Talkative Silly Creatures," "The Tunnel of Faz-Inating Secrets" and "Under Construction"). The menus play an instrumental version of the Fraggle Rock Theme.
Broadcast vs. production seasons
The selection of episodes included on this set doesn't match the third season as it was originally broadcast on HBO. Fraggle Rock was produced in four seasons of 24 episodes each, however HBO split up the episodes to stretch the show into five broadcast seasons. As such, the third season, which was produced as 24 episodes, was originally broadcast as only 22 episodes. The final two episodes of the season—"Wembley's Wonderful Whoopie Water" and "Sidebottom Blues"—were originally held over and broadcast as the second and third episodes of the show's fourth season.
The fourth (and final) production season also included as 24 episodes, but the fourth broadcast season included 13 episodes (including the two leftover episodes from the previous season) while the final 13 episodes were broadcast in the following year as the show's fifth season.
The season box set releases of Fraggle Rock are intended to follow the original production seasons, not the HBO broadcast seasons. However, this intention was not carried out perfectly, as the third season set includes "Sprocket's Big Adventure", which was produced as part of the fourth season, instead of "Sidebottom Blues", which appears in the fourth season set.
Releases
Notes
External links