Fraggle Rock: Rock On! is a digital short-form spin-off of Fraggle Rock, produced by the Jim Henson Company for the Apple TV+ streaming service. The series, and its teaser trailer, premiered on April 21, 2020, with new episodes releasing every Tuesday through May 26.
Produced in the early months of the COVID-19 pandemic, all material for the series was shot from the homes of the performers.[1] A soundtrack for the series was released in May 2020.
Coinciding with the release of the last episode, Apple TV+ announced a full-length reboot of Fraggle Rock.
Episodes
Image
Description

Episode 1: Shine On! — April 21, 2020 • 5 min

The Doozers have been installing Doozertubes all over Fraggle Rock, and Gobo is anxious to try his out to get in touch with his friends. With all the gang logged on, they sing "Shine On, Shine On Me."

Episode 2: The Cave of the Silly Creatures — April 28, 2020 • 5 min

In Outer Space, Uncle Traveling Matt finds a Doozertube in his backpack and makes contact with nephew Gobo. Uncle Matt recounts his exploration of a Silly Creature's home.

Episode 3: The Fraggletastic Talent Show! — May 5, 2020 • 5 min

Gobo hosts a virtual talent show with his friends. Everyone is able to exhibit their amazing talents except Wembley, who has trouble deciding which food to balance on his nose. He becomes inspired when Uncle Traveling Matt mentions that everyone, even the Silly Creatures, has talents.

Episode 4: A Common Connection — May 12, 2020 • 5 min

Uncle Traveling Matt sets his backpack down to explore a squishy cave; actually a recording studio being used by Common for a virtual music session. Common connects with Gobo and Red on Uncle Matt's Doozertube. Together, they perform a new version of "Let Me Be Your Song" and are joined by the other Fraggles.

Episode 5: Wembley and Gobo's Mrazmerizing Adventure! — May 19, 2020 • 5 min

A Doozertube is set up nearby a tree where Jason Mraz sits down to have lunch. He hears the strums of Gobo's guitar and joins him in a duet of the "Fraggle Rock Theme." Gobo and Wembley meet Mraz, who "wembles" between having an avocado or a kumquat. The three perform "Wemblin' Fool."

Episode 6: Party Down in Fraggle Rock! — May 26, 2020 • 8 min

Traveling Matt finishes delivering Doozertubes to the dwellings of notable Silly Creatures, with the hopes of successful communication with the Fraggles. Boober and Neil Patrick Harris trade their secrets in cooking and folding laundry; Red teaches a pig-tailed Tiffany Haddish the ropes of rock hockey; Mokey and Ziggy Marley do yoga exercises; and Gobo and Wembley jam out with Alanis Morissette. At NPH's suggestion, Boober invites the other Fraggles and Silly Creatures (including Common and Jason Mraz) to a virtual dance party. Everyone joins in for a special version of the "Fraggle Rock Theme."
Cast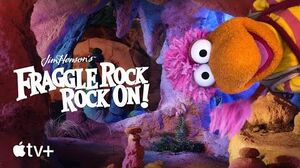 Credits
Executive Producers: Halle Stanford, John Tartaglia
Executive Music Producer: Harvey Mason Jr.
Directed by Jason de Villiers
Written by John Tartaglia
Produced by Tim O'Brien
Sources