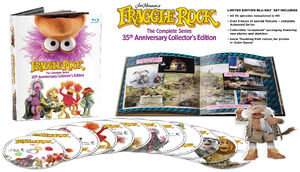 Fraggle Rock: The Complete Series 35th Anniversary Collector's Edition is the 2018 Blu-ray release of Fraggle Rock and its animated counterpart, distributed by Sony Pictures Home Entertainment. It is the first physical media release of the series upscaled to high definition from the standard definition source tapes.
While HD episodes had previously streamed on HBO, the picture had been cropped to fit widescreen TVs; the Blu-ray release preserves the series' 4:3 aspect ratio as originally taped and broadcast. Also, like the HBO rebroadcasts, the original opening and closing credits are preserved, with the "With Jim Henson's Muppets" opening multi-colored variants, and the Henson Associates/CBC Production ending credits. However, the release also continues to omit the alternate openings as with past home video releases (although on this release, only the audios to these openings are heard, despite using the usual footage of Boober).
New features in this release include a behind-the-scenes booklet built into the disc packaging, a sing-along option (stylized lyrics on-screen as an alternate to the subtitles), a 1993 appearance by Uncle Traveling Matt on The Today Show, and a two minute blooper reel with Jim Henson from the taping of the 1987 documentary Down at Fraggle Rock: Behind the Scenes.
To promote the release, the Fraggle Rock Facebook page published some short videos dubbed "Secrets of Fraggle Rock" with Brian Henson. The include Cantus the Minstrel [1], character names [2], and filming Fraggles in water [3].
Contents
Navigational menus on the disc include buttons for the contents of all 12 discs in the set, and do not correspond directly to the content of the particular disc being viewed. As such, navigating the set's content is reliant on a 13-page booklet loosely inserted within the disc sleeves.
Disc 1
Disc 2
Special Features
Disc 3
Special Features
3 Featurettes: Marooned, Music & Jim
Archival HBO Promos
Disc 4
Disc 5
Special Features
Disc 6
Special Features
Disc 7
Special Features
Season 3 Overview
Scared Silly: Art Imitating Life
Production Design Featurette
Doozer Design
Disc 8
Special Features
Disc 9
Animated Series Special Features
Behind-the-Scenes Featurette
Character Galleries
Opening Scene Storyboards
Disc 10
Special Features
Final Season Overview
Designing the Puppets: An Interview with the Puppet Makers
You Cannot Leave the Magic: Excerpts from the Last Day of Shooting
Dance Your Cares Away: The Evolution of the Theme Song
Let the Music Play: An Interview with Phil Balsam and Dennis Lee
Disc 11
Special Features
The Inner Gorg: An Interview with the Performers Inside the Costumes
Celebrating Fraggle Rock: Excerpts from the Wrap Party
Directing the Fraggles: An Interview with Eric Till and George Bloomfield
Final Season Credits
Down at Fraggle Rock: 5 Featurettes
Disc 12
Special Features
Community content is available under
CC-BY-SA
unless otherwise noted.