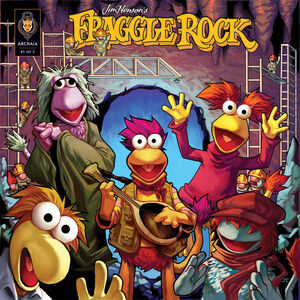 Fraggle Rock is a comic book series launched in spring 2010 by Archaia Studios Press based on the world of Fraggle Rock.
The Fraggle Rock comics are published in an eight-inch by eight-inch format, a size that Archaia has used for its Mouse Guard (David Petersen) series. In contrast to Roger Langridge's The Muppet Show comics, the series is an anthology of tales set in Fraggle Rock, combining long and short stories, rather than a major continuing arc.
Each issue also featured activity pages created by Katie Cook - such as teaching how to draw the character, how to make radish stamps, or how to build Doozer structures.[1]
"We're trying to remain as true to the series as possible. I think the biggest change is that we're telling these stories in the comic book medium rather than TV. We did make a conscious decision not to write the series as a sequel to the show. Those of you who know how the show ends know that setting these stories after the final episode would require either changing some key components of the series or else coming up with some contrived way of reversing what happened at the end of the show. We didn't want to do that, so rather our stories are set within the period of the show. We're also not worrying too much about continuity. We're not ignoring it, but in the interest of making sure this book's accessible to young readers who have never seen the show, we felt it best if we focus on telling self-contained stories that don't depend on knowing particular episodes of the show.

That said, there will definitely be things in the series for fans. We're focusing on the "Fraggle Five," but we'll also be telling stories that focus on Doozers and Gorgs, as well as supporting characters like Convincing John, the World's Oldest Fraggle, Traveling Matt and Cotterpin Doozer. We're also throwing in occasional references and Easter Eggs that fans will pick up on. We're all old fans ourselves, so we definitely want to make sure we please our fellow fans. But we also want to help grow the property and bring new fans into the fold. I think the series succeeds on both fronts."
—Tim Beedle, managing editor[1]
Volume 1 (2010)
Free Comic Book Day issue
Release date: May 1, 2010
It was promoted by a live appearance of Red Fraggle, Karen Prell, and the creative team behind "The Birthday Present".
Issue #1
Release date: April 28, 2010
Issue #2
The issue features a story where a cat escapes Doc's workshop through the hole in the wall and ends up trapped in Fraggle Rock.[1]
Release date: May 26, 2010
Issue #3
Release date: June 23, 2010
Volume 2 (2011)
Issue 1#
Release date: January 19, 2011
"Wembley and the Great Dream-Capade!" written by Grace Randolph and illustrated by Chris Lie
"Boober and the Ghastly Stain" written by Jake T. Forbes and illustrated by Mark Simmons
"Brave Sir Wembley" written by Joe LeFavi and illustrated by Cory Godbey
Issue #2
Release date: January 26, 2011
"The Meaning of Life" written by Joe LeFavi and illustrated by Heidi Arnhold
"The Fraggle Who Cried Monster" written by Jason M. Burns and illustrated by Chandra Free
"The Perfect Words" written by Tim Beedle and illustrated by Ross Campbell
Issue #3
Release date: April 13, 2011
"My Gift is My Song" written and illustrated by Katie Cook
"Shopping with Silly Creatures" written by Katie Strickland and illustrated by Lindsay Cibos
"Red's Chomp-a-thon" written by Paul Morrissey and illustrated by Nichol Ashworth
Monsters from Outer Space!
Release date: September 21, 2011
Written by Mel Caylo, Heather Nuhfer and Katie Strickland, with art by Jake Myler
Additional sketch by Katie Cook
Mokey's Inspiration
The issue is packaged as an exclusive within the 30th anniversary box set.
Release date: May 14, 2013
Written and illustrated by Nichol Ashworth, colored by Lucas Marangon
Additional activity pages by Katie Cook
Volume 3 (2018)
Issue #1
Release date: May 9, 2018
"Mokey Loses Her Muse" written and illustrated by Jared Cullum
Issue #2
Release date: June 20, 2018
"The Rough Side of the Rock" written and illustrated by Jay Fosgitt, colored by Joana Lafuente
Issue #3
Release date: July 18, 2018
"Where is It?" written and illustrated by Art Baltazar
Issue #4
Release date: August 29, 2018
"Rock Hopping" written and illustrated by Katie Cook
See also
Fraggle Rock, Marvel Comics' 1985-1986 run of Fraggle comics
Sources
External links
Community content is available under
CC-BY-SA
unless otherwise noted.