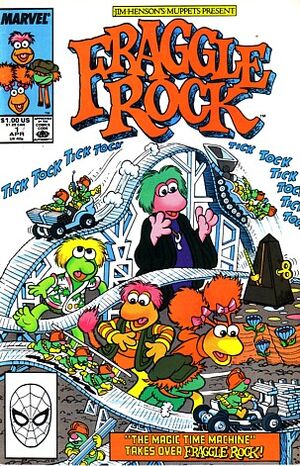 In 1985, Star Comics, a division of Marvel Comics, began a comic book series based on the Fraggle Rock TV show. The series lasted only 8 issues, ending in 1986. The first two issues featured original stories, while adaptations of plots from the TV series were used from issue three onwards. The titles of the adapted stories were often changed, along with some minor plot and story details.
Stan Kay wrote all eight issues, and all of the artwork was drawn by Marie Severin (with the exception of the cover art of issue 1). Severin would go on to draw the two page Fraggle Rock comics found in later issues of Muppet Magazine.
After the animated series debuted, Marvel reprinted the series in 1988, without including the Star comics logo. The reprint series ended with issue 5.
In 2012, Archaia Entertainment began re-publishing the stories from this series as Fraggle Rock Classics.
Condor Verlag distributed the comics' German language translation Die Fraggles in the mid-1980s.
Issue 1: The Magic Time Machine
In this original story Gobo ends up stealing a metronome from Doc's workshop. The device gets stuck in the 'on' position and begins going faster and faster, causing the Fraggles and Doozers to also move (and work) at increasing speeds.
Issue 2: Number One
After performing the "greatest dive of all time", Red claims to be "number one" at everything possible, and her ego begins to get the best of her. Gobo brings back a collapsible top hat from Doc's workshop and Red uses it to hide from herself from "all her fans".
Issue 3: The Monster That Could Be Anything
A comic adaptation of "Believe It Or Not".
Issue 4: The Doozer Who Wanted To Be A Fraggle
A comic adaptation of "All Work and All Play".
Issue 5: The Mean Genie
A comic adaptation of "Wembley and the Mean Genie".
Issue 6: Exploring the Unknown
A comic adaptation of "Gobo's School for Explorers".
Issue 7: The Great Radish Caper
A comic adaptation of "The Great Radish Caper".
Issue 8: The Greatest Race There Ever Was
A comic adaptation of "The Beanbarrow, the Burden and the Bright Bouquet".
International publications
See also