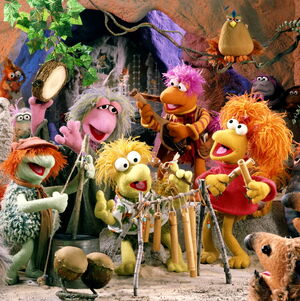 An untitled Fraggle Rock movie has been in development by The Jim Henson Company since 2005.[1] The proposed film was planned to "take Gobo, Wembley, Mokey, Boober and Red on an adventure outside of Fraggle Rock where they will interact with the strange beings in 'outer space' (also known as humans)."[2]
The Weinstein Company formerly partnered with the Henson Company to produce and distribute the film. Cory Edwards, the writer and director of the 2005 animated film Hoodwinked!, was announced as the writer and director for the Fraggle Rock film in May 2008. Edwards kept a blog about the process, and began writing about his frustrations with the project in mid-2009. In June 2010, Edwards announced that the Weinstein Company is looking for a replacement screenwriter, claiming that he's been told that his script is "not edgy enough." In 2011, the deal fell through with Weinstein.
In 2011, following the loss of the Weinstein deal, New Regency announced that they had acquired the rights to produce the film.[3] In May 2012, new writers for the project were announced.[4] Brian Henson mentioned in a Variety interview in March 2014 that the Fraggle movie was "still in development".[5]
When asked about the project at a Q&A event in May 2015, Brian Henson commented that the project was "in script development," adding that there's "a lot of enthusiasm, but it still really in script development." When asked why the decision to to revisit the world of the Fraggles as a film as opposed to reviving it as a TV series, Henson responded: "I don't know that I have a good answer to that, other than I have a sister named Lisa, and she and I make a lot of these kind of decisions, and I think she was more enthusiastic about making it a movie, but yes, you could definitely go either way." (YouTube)
Early development
In a May 2006 interview, Brian Henson said, "Yes, we are writing a Fraggle Rock movie and trying to pull it together." Henson said that fans should expect the movie "to do something that sort of stands next to the Fraggle Rock series rather than be a continuation of the show."[6]
The Jim Henson Company confirmed in an October 2006 press release that the movie was "in the works".[7] The press release also stated that "the treatment is being written by author Ahmet Zappa (The Monstrous Memoirs of a Mighty McFearless)."
Zappa discussed his plans for the treatment in a December 2006 interview with MTV.com. Zappa said at that time the filmmakers were planning to release the movie in late 2008 or early 2009, and said that "the Fraggles need to be here sooner, rather than later."[8]
Weinstein Co. deal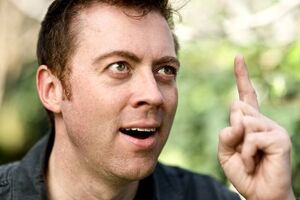 In May 2008, Henson announced that the Weinstein Company would distribute the Fraggle Rock film. The announcement also said that Cory Edwards, the writer and director of the 2005 animated film Hoodwinked!, was attached as the Fraggle film's writer and director. The press release listed Brian Henson, Jason Lust, Lisa Henson and Eric Robinson as producers, with Ahmet Zappa and Brian Inerfeld as executive producers.[2]
Lisa Henson commented on the partnership: "Our previous partnership with the Weinstein Company has proven to be a wonderful collaboration and we are confident that joining with them on this project will ensure audiences young and old will enjoy meeting Red, Gobo and the whole Fraggle gang. With Cory Edwards directing, this new Fraggle adventure will bring an exciting energy while honoring the heart, joy and hope of the original series."[2]
In the Henson Company press release, Edwards said:
"Jim Henson's work has had a huge influence on my life, so to get the chance to bring 'Fraggles' to the big screen is fantastic. Both Lisa and Harvey [Weinstein] have been very enthusiastic and supportive of my vision of this film. It's my goal to make Fraggle fans happy, as well as make a great stand-alone fantasy adventure film.[2]"
Screenwriter Cory Edwards has been writing about his progress on the film on his personal blog, "Cory's Curiosities".
In March 2009, Edwards discussed the plans for the movie's soundtrack:
"I have been having some really cool meetings with some of the largest talent agencies about the MUSIC of the movie. We are talking to some big people about being involved. MAJOR names. Everyone agrees that this music has to be more than "kids rock," or sing-songy stuff that is merely tolerable for adults. The hope is to make the soundtrack the best POP album it can be, while giving the movie those magical moments.[9]"
He also discussed Henson's concerns about the script:
"The other update is that I had a substantial creative meeting over at Henson on some bigger issues with the script. As excited as everyone has been about the screenplay, there were some larger, lingering notes. Notes about certain themes, about the length of time we spend in certain locations or on a certain character's story. It's been my experience that larger notes are the better discussions to have. Nitpicky debates over a line of dialogue or single action in a scene are seldom productive. But when you can dig down to a big ROOT concern, and then shift a major aspect of the script to meet that concern, that's worth doing.

So I have launched into another rewrite for a few weeks to re-work the front of the movie and a few big moments in the story. But I'm excited. Because these are big notes, not little notes. Sure, redoing your whole kitchen takes a lot more work than replacing the sink, but it's for a better payoff.[9]"
In June 2009, Edwards wrote about the continuing delays in getting the project greenlighted:
"All parties are circling up to keep this ball moving down the field (although it's always more like pushing a boulder up a hill). For those of you who are frustrated and impatient about how long this is taking, Welcome To The Movie Business! This is nothing new. Each project of this size involves huge amounts of money and lots of people (and multiple companies) agreeing on the same creative, financial and strategic plans. And then some of those plans take a lot of time to execute.
The news that you really want to hear -- the news that the movie is moving into production -- just hasn't happened yet. There are some major chess pieces that need to be in place to make sure this film has the best possible budget, distribution and promotion when it comes out.[10]"
Edwards added that he is currently working on pitches for other movies.
Brian Henson mentioned the Fraggle Rock movie during a panel about Farscape at the San Diego Comic-Con in July 2009, saying that the movie was "on schedule."[11]
In September 2009, Edwards wrote that he is continuing to have meetings with studio executives and financing partners. While he said "I remain optimistic", he acknowledged frustration with the slow progress of the negotiations. He also clarified that Henson is not the source of the delay:
"I've heard a little chit-chat online about Henson dragging their feet and holding up the movie. Let me be clear: Henson is not holding up the movie. They are "all systems go." The holdup is financing and putting together studio partners in this economy.[12]"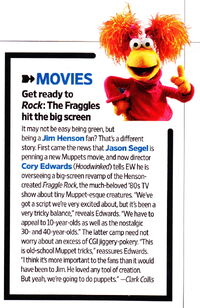 In December 2009, Entertainment Weekly posted a blurb about the Fraggle Rock movie, quoting Edwards:
"Director Cory Edwards (Hoodwinked) tells EW he is overseeing a big-screen revamp of the Henson-created Fraggle Rock, the much-beloved '80s TV show about tiny Muppet-esque creatures. "We've got a script we're very excited about, but it's been a very tricky balance," reveals Edwards. "We have to appeal to 10-year-olds as well as the nostalgic 30- and 40-year-olds." The latter camp need not worry about an excess of CGI jiggery-pokery. "This is old-school Muppet tricks," reassures Edwards. "I think it's more important to the fans than it would have been to Jim. He loved any tool of creation. But yeah, we're going to do puppets."[13]"
In April 2010, Edwards wrote about the production's holdup and once again restated that the script is good and that the Henson Company is not the source of the delay:
"There are many crazy things going on behind the scenes to get the film funded and to get the Weinstein Company completely committed. I'm very, very frustrated with the lack of progress, to put it lightly.

The script is GOOD, guys. I'm excited about it and I stand by it. But we are still in a continual cycle of draft, notes, draft, notes, draft, notes... It makes me want to bite a hole through an armchair, frankly. I'm at a loss. I'm ready to go, but the big decision-makers are not.

I've become very personally invested in this thing, and I desperately want to give you all the Fraggle movie you've been dreaming of. I get goosebumps when I think about the movie that could be. I think it's still possible. However, I'm sad to say that you may not hear any updates on Fraggle Rock for a long time. I wanted to at least set your expectations. We've got to work some stuff out so we can do this right. I'll do my best to keep you updated -- if and when the slow wheels of this machine start moving again.[14]"
In May 2010, Cory Edwards was interviewed by the Muppet Mindset about the Fraggle Rock movie. Edwards mentioned that Karen Prell and Dave Goelz would be reprising their roles as Red Fraggle and Boober Fraggle. He added that most of the cast members were having health problems, which could mean recasting.
In June 2010, Edwards posted on his blog that the Weinstein Company "have begun the search for a new writer, presumably to rewrite my entire script from scratch." Edwards expressed concern and frustration about the process: "This is happening behind my back, without consulting me or even asking my opinion... The only overall note coming from the studio is this: 'Not edgy enough.'"
Rejecting the word "edgy", Edwards declared: "I have said repeatedly that I will do my very best to make this Fraggle movie relevant and modern, to compete with everything else out there. But what I will NOT do is sabotage what made the property beloved in the first place... Perhaps this [blog post] will get the studio to pick up the phone and actually engage me again."[15] Later that month, Edwards reported he had spoken to the company about the script, and was given some changes they had requested.
Edwards revealed in an Entertainment Weekly interview in May 2011 that the project is no longer in development with Weinstein: "I had heard for months now that it's all but dead. But I have heard recently that it's not even with the Weinstein Company anymore. They've let that option go. Which means that it's up to the Jim Henson Company, what they want to do with it. My deal was with the Weinstein Company, so we'll see if anybody wants to make a deal with me to direct again. I wrote a script that the Weinstein Company owns, so in a way I'm disappointed that that project didn't happen. But as I've said on my blog, I think we all need to remember that it's also good that a bad [movie] didn't happen. If the elements weren't right, and the studio wasn't onboard with my vision, then I'm happy that it didn't go forward, because it could have been a disaster and fans would have been angry. So my answer is that it's in a deep, deep coma and it sounds like it's up to the Jim Henson Company how they want to proceed. I know they like me and I love the Fraggles, so we'll see."[16]
Craig Shemin noted in a July 2011 presentation at the Museum of the Moving Image that the film would be on hold until they could find another production company.
New Regency deal
In October 2011, the company New Regency announced that they had bought the rights to produce the film from The Jim Henson Company.[17] Regency Enterprises has produced films such as Free Willy, Macaulay Culkin's The Nutcracker, Pushing Tin, Fight Club, The Onion Movie, the Alvin & the Chipmunks movies, and Marmaduke.
On May 30, 2012, it was announced that Jim Byrkit and Alex Manugian were signed to write the screenplay.[4] Byrkit was a writer and storyboarder for Academy Award-winning animated feature Rango (and voiced the characters Waffles, Gordy and Papa Joad); Manugian also worked on Rango (and voiced the character Spoons). In 2014, Ivan Reitman (director of the Ghostbusters films) was attached as a producer,[18] but it was later noted that he and his production company, Montecito Pictures, were no longer involved on the project.[19]
After nearly two years of inactivity, Brian Henson briefly talked about the film's progress in a March 2014 Variety interview:
""Fraggle Rock" is still in development, but the development is looking very strong, where "Dark Crystal" is mostly developed. "Fraggle Rock" might go faster because it's not as big an undertaking.[5]"
On March 19, 2015, it was announced that Joseph Gordon-Levitt would be attached to the project as a producer and star. Levitt says,
"The first screen personas I ever loved were Henson creations, first on 'Sesame Street,' and then on 'Fraggle Rock,' [...] Jim Henson's characters make you laugh and sing, but they're also layered, surprising, and wise. From Oscar the Grouch, to Yoda, to the Fraggles. I've never stopped loving his work, even as a young frisky man, and on into adulthood. Collaborating with Lisa Henson makes me confident we can do something that Jim would have loved. I'm grateful and excited to be working with New Regency on this project.[19]"
In July 2018, Gordon-Levitt reported on Twitter that conversations about the movie were still ongoing. In response to the question "Any update on the Fraggle Rock movie?" Gordon-Levitt posted: "Just had a meeting about it the other day. Movies take a long goddamn time. Wait should I not say goddamn in the context of Fraggle Rock? I guess I shouldn't. Sorry Wembley."[20]
By June 2020, Gordon-Levitt was quoted that the movie wasn't happening, mentioning the new show with Apple TV+: "There's so many projects that are in development. Some get into the press for some reason and some don't. We all spend lots and lots of time working on lots and lots of things that don't become real. This was one of those."[21]
Sources
See also
External links
Community content is available under
CC-BY-SA
unless otherwise noted.