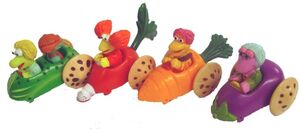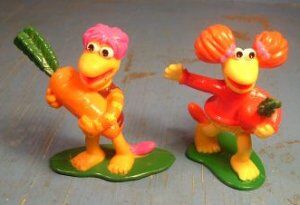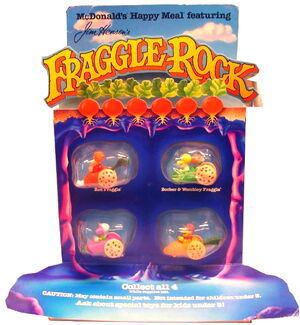 McDonald's released a set of Fraggle Rock Happy Meal toys in 1988.
The set included four Fraggle cars:
An additional two toys were made for children under three:
Gobo Fraggle figure holding carrot
Red Fraggle figure holding radish
Each toy came in its own Happy Meal box.
A McDonald's commercial showcasing the toys was also produced, with new footage of the animated Fraggle Rock.
Test Happy Meal
A test version of the Fraggle Rock Happy Meal toys were sold the previous year in the southern part of West Virginia. Test Market Happy Meals are released on a very limited basis in a small area to test the popularity of the toys, and see whether or not a nationwide promotion is warranted. McDonald's has discontinued this practice in recent years.
The test version included the Gobo and Red cars, but also included two Doozer cars instead of Mokey, Wembley and Boober's cars. The two Doozer cars were:
This set is very rare and sought after, particularly the Doozer toys.