The German company Schleich released a series of 13 Fraggle Rock PVC figures in 1983, consisting of the six main Fraggles, three Doozers, Sprocket, and three Gorgs which were a lot larger than the others.
The following figures were made:
The sculpts were based on publicity photos and illustrations which can be found in one of the Fraggle Rock Annuals. The sculpts for the Fraggle Five would later be rereleased by Applause for a series of Applause Fraggle Rock Figures. Sprocket is the rarest figure, with Traveling Matt in second place.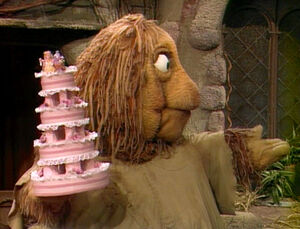 The Schleich figures of Ma and Pa Gorg appeared on the show itself, surmounting the Gorgs' wedding anniversary cake in the episode "Ring Around the Rock."
An unknown company - possibly the company that would later be known as Comics Spain - produced a series of unofficial Fraggle Rock figures, based on the Schleich sculpts but without copyright marks. The series includes Red, walking and holding a boomerang; Boober, holding a walking cane; Mokey, with a nightcap on her head and a candle in her hands; and a group of Doozers. Despite the lack of detail, the figures clearly resemble their puppet counterparts and could even be recognized as "official merchandise" by the untrained eye.
A Spanish company produced two Doozer playsets to go with the figures.
Schleich also produced a series of Muppet PVC figures and Muppet Babies PVC figures.
Community content is available under
CC-BY-SA
unless otherwise noted.