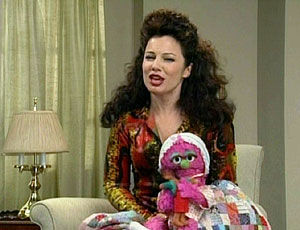 Fran Drescher (b. 1957) is an American actress best known for her role on television's The Nanny.
In addition to her appearance on Sesame Street, she was featured with Baby Natasha in the celebrity version of "Sing." She also starred in another skit with Natasha, Ingrid, and Humphrey where Ingrid and Humphrey needed a nanny to watch Natasha while they go to work at the Furry Arms Hotel. But once they found out that she's a great nanny, they didn't want to go to work and wanted her to be their nanny too.
Drescher was one of the many celebrities to make a cameo appearance in the music video for "She Drives Me Crazy."
External links