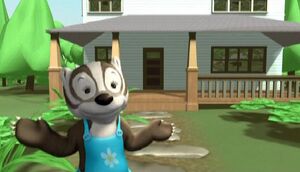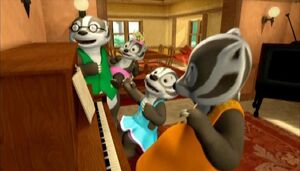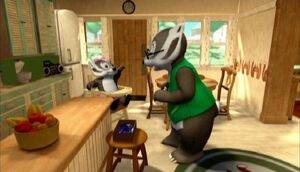 Frances is a children's series produced by the Jim Henson Company and HIT Entertainment that brings the storybook character of Frances, a young badger from the book series by Russell Hoban, to life with the use of digital puppetry.
Each 15-minute episode features a life lesson designed to address the emotional needs of young children. Frances is a celebration of the preschool spirit - with all its dramatic highs and lows. Like many young children, Frances Badger is fun-loving, determined and highly imaginative, expressing herself through original poems and songs. Joining Frances in her daily adventures are her little sister, Gloria, her mom and dad, and her best friend Albert.
The series, adapted from the storybook series by Russell Hoban, was developed and produced by Alex Rockwell and Halle Stanford. Alex Rockwell, co-writer and producer on the series with Judy Rothman Rofé, commented on the development in a 2008 interview, stating:
"Quite a few years ago – I think seven or eight years ago – we decided to develop Frances. Obviously it's based on the books and those books are truly brilliant. And the reason I think I was attracted to them for many years is that they so beautifully represent a very authentic kid. Frances is a really real child. She has temper-tantrums, she is stubborn, she is highly high-spirited, and highly imaginative. When you're reading those books, you see that it's such an honest portrayal of that kind of a kid. And we were attracted to that, and really wanted to bring that to television. And the other beauty of the books that we wanted to preserve is that her parents are extremely good parents. They are very patient with her, and they have this way of not crushing her spirit... And that is modeled very well in the books. And we really wanted to create a series that captured those two things.
It was difficult to sell the show originally, because broadcasters were afraid of Frances not being an ideal kid. They would always say, 'we don't want to model that behavior, or show a kid that's upset or doesn't want to give her sister her birthday present.' We had difficulty selling the show.[1]"
Six 15-minute episodes were produced. The series premiered on June 20, 2008 on PBS Kids Sprout, as part of the channel's "Summer Fun Fridays" programming block. Additionally, the entire series was slated be released on DVD in 2009 with two single-disc releases. The first DVD, Bedtime for Frances, was released in March 2009 and a second release was planned for October of that year, but was never issued[2]
Episodes
See the Frances episodes category on the Henson Digital Performance System Wiki.
Technology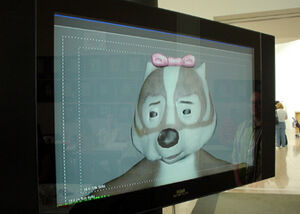 The show used the Henson Digital Performance System, which allows puppeteers to control computer generated characters in real-time. Unlike traditional computer animation, the show uses computer puppetry to bring the characters to life. Brian Henson, director of the Frances pilot, discussed the process in a radio interview:
"The technology we've developed allows a puppeteer to puppeteer/perform a character that is being animated in real time...If you go into one of our puppeteer-animation sound stages, which there is only one of, you would see what feels like a real operating live-action set, and the puppeteers are performing – one puppeteer is performing the body, one is puppeteer is performing the head and voice – and what we're getting is these wonderful organic performances. The computer is not doing any animation. The computer is not allowed move anything; only people can move anything. So there's a camera operator, moving our virtual camera, and there are performers who are puppeteering the bodies and the heads of the character.[3]"
"We're having, I've got to say, so much fun; because we can improvise... What's great about puppets are that they are spontaneous, and what we're trying to do in our 3-D animation, is to really be spontaneous. So we're really working the material in front of the camera. And we have big projectors, so they can see what [the computer] sees. We're doing performed animation, and it's a lot of fun.[3]"
Post production was undertaken at the London Creature Shop under the VFX Supervision of Stephen Coren and Animation Director, Mak Wilson. This entailed motion capture clean-up, additional animation and lighting, texturing and rendering.
Merchandise
A DVD of the series, Bedtime for Frances, was released in a "DVD & book collection" on March 31, 2009. The DVD included three episodes of the series ("A Whiny Sister for Frances", "A Cupcake for Frances", and "Bedtime for Frances"), plus an interactive read-along and a character gallery. The disc comes bundled with Russell Hoban's original storybook "Bedtime for Frances".
Cast
Sources
External links
Community content is available under
CC-BY-SA
unless otherwise noted.