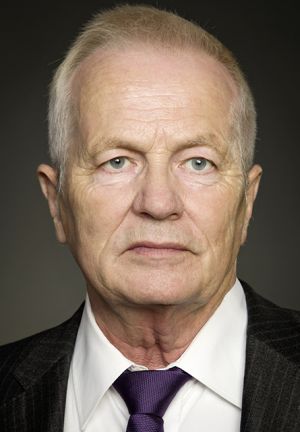 Frank-Otto Schenk (b. 1943) is a German voice actor who dubbed the Newsman in Die Muppets (The Muppets). For the German dub of The Muppets, he reprised the role and also took over as Dr. Bunsen Honeydew (while standard voice Mogens von Gadow was unavailable, doing a play in Hamburg[1]).
Schenk began his career in East Germany, appearing in several films in the sixties and seventies. He is the standard German voice of Eugene Levy and Kelsey Grammer (from Frasier onward), and frequently dubs Stephen Fry, Jim Broadbent, Michael McKean, and Albert Brooks. He dubbed Steve Martin in The Pink Panther movies, Jeffrey Tambor in How the Grinch Stole Christmas, James Fox in Heart of Darkness, and Tony Shalhoub in 13 Ghosts.
Animation roles include Owl in the 2011 Winnie the Pooh, Mr. Merrimack in Rango, Judge Hopkins in Paranorman, Fat Cat on Chip and Dale Rescue Rangers, Snively on Sonic the Hedgehog, and various anime characters. On-camera, Schenk appeared in episodes of Tatort, Polizeiruf 110, and Leipzig Homicide, as well as the films Dr. M. (with Jennifer Beals) and Tigers.
Sources
↑ Review of En Leven Mann. Staged in Hamburg during The Muppets dubbing
External links