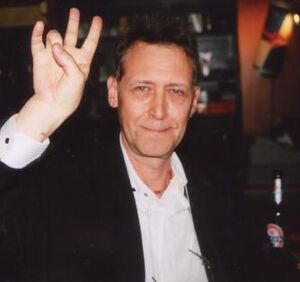 Frank Glaubrecht (b. 1943) is a German voice actor who dubbed Jareth in Die Reise ins Labyrinth (Labyrinth) and Pierce Brosnan in the German dub of Muppets Tonight. He also dubbed the title character in the Creature Shop-effects movie Merlin.
In dubbing, Glaubrecht is the German voice of Pierce Brosnan in nearly every project and a frequent voice of Kevin Costner, Al Pacino, Jeremy Irons, Christopher Walken, and David Bowie. He dubbed Billy Dee Williams in Star Wars projects and on Scrubs, Mel Gibson in Mutiny on the Bounty and others, Timothy Dalton in Flash Gordon, John Hurt in Alien, Tim Curry in Annie, and George Hamilton in Doc Hollywood.
Glaubrecht began his acting career as a child and adolescent and played one of the leads in the 1959 German film Die Brücke (The Bridge). In addition to running parts on German television in the 1960s, he later appeared in the English language action movies Code Name: Wild Geese (1984) and Der Commander (1988), both with Lee Van Cleef. In the Geisterjäger John Sinclair audio books, Glaubrecht voices the title character, a heroic ghost hunter.
External links