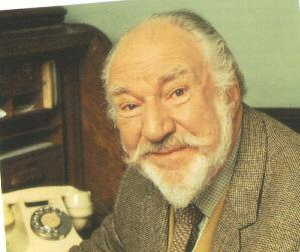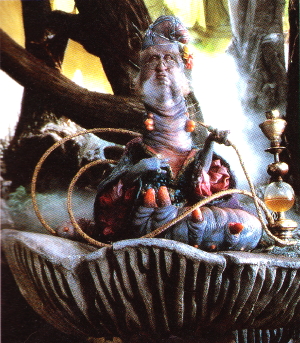 Francis Middlemass (1919-2006) was an English character actor, specializing in avuncular old eccentrics, who supplied the voice of the Caterpillar in the Creature Shop film Dreamchild.
In his youth, Middlemass entered the British army, at the age of 19, and was wounded at the Battle of Dunkirk. He remained in the service until the age of 30, and subsequently began an acting career. He started on the stage in repertory, then with the Old Vic and the Shakespeare Memorial Company, and later performed Waiting for Godot opposite Peter O'Toole. He also appeared as the Fool, opposite Michael Hordern's King Lear, which was televised in 1975. He joined the Royal Shakespeare Company in 1984, playing Friar Lawrence in Romeo and Juliet. In 1998, he essayed the Narrator in a West End revival of Stephen Sondheim's Into the Woods, and as late as 2004, was still performing on stage, touring as Canon Chasuble in The Importance of Being Earnest.
Middlemass entered television in 1958, appearing on Dixon of Dock Green, Z-Cars, and The Avengers, and later appeared on Upstairs, Downstairs, Yes, Minister, and in the Miss Marple episode "A Caribbean Mystery," as the boastful Major Palgrave, a fairly typical role. In TV adaptations of Charles Dickens, he played Mr. Brownlow (Oliver Twist, 1985) and Uncle Pumblechook (Great Expectations (1989). On radio, he played patriarch Dan Archer in the long-running BBC soap opera The Archers, from 1982 until 1986, when his character was killed in an attempted sheep rescue. His few film credits included Barry Lyndon and Frankenstein Must Be Destroyed.
He later starred on the television series To Serve Them All My Days (as schoolmaster Algy Herries) and on the sitcom As Time Goes By from 1993 until 2005 (as Rocky Hardcastle, opposite Judi Dench). He died on September 8, 2006.
External links
Community content is available under
CC-BY-SA
unless otherwise noted.