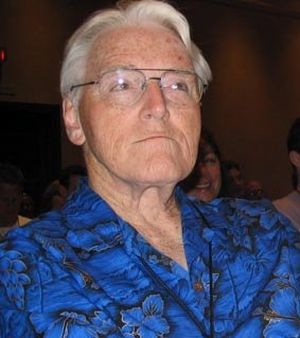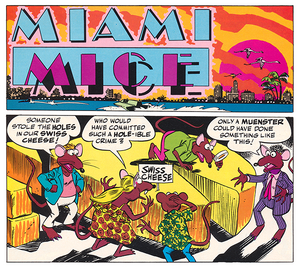 Frank Springer (1929-2009) was a comics artist who worked for Marvel Comics, DC Comics, and others. He drew parody comic strips to Muppet Magazine, including "Super Stars War" (issue 3) and "Miami Mice" (issue 14).
Springer began his comics career in the 1960s, assisting on the newspaper strip Terry and the Pirates and doing both pencils and inks on assorted Dell comic titles (including Boris Karloff Tales of Mystery and Charlie Chan). He freelanced at DC, working on Batman (a 1967 Catwoman tale, and later a 1970s Riddler story), the debut "Dial H for Hero" story, and two issues of Tarzan. In the eighties, he drew multiple Secret Six stories for Action Comics (1988-1989) and issues of Green Arrow, and inked on Superman at various times.
However, most of Springer's career was spent working for Marvel, including the original run of Nick Fury of S.H.I.E.L.D. (1968-1969), a four year stint on Dazzler (1981-1985), and work on The Avengers, The Spectacular Spider-Man, Conan the Barbarian, and Marvel's horror comics. He inked a 1977 issue of Marvel's Star Wars comic and later contributed to the G. I. Joe and Transformers titles.
Springer also contributed to magazines, including National Lampoon and Playboy. He spent two years drawing the newspaper strip Rex Morgan MD.
External links
Community content is available under
CC-BY-SA
unless otherwise noted.