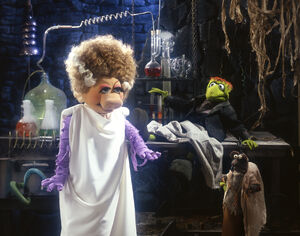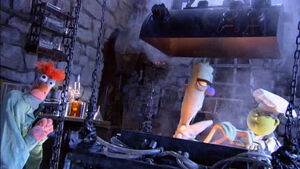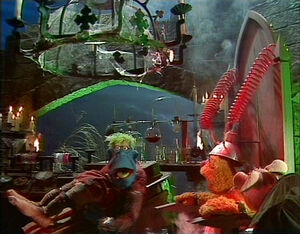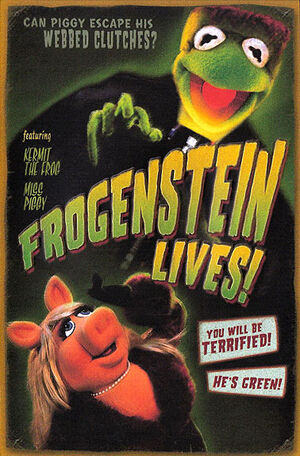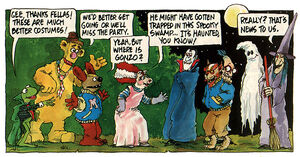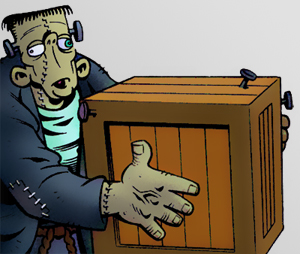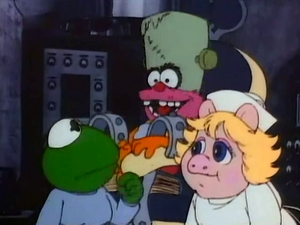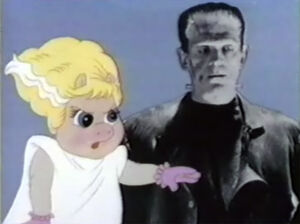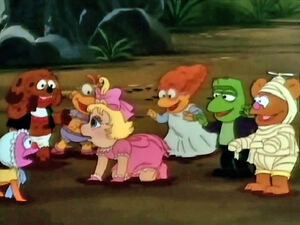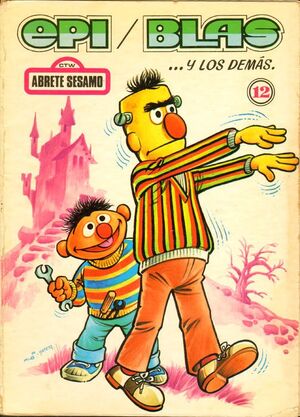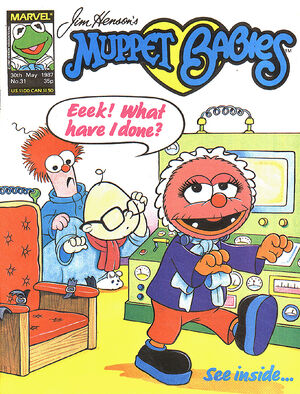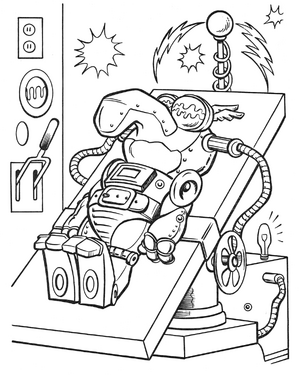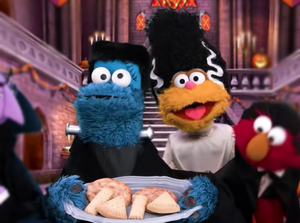 Frankenstein is the title of a gothic novel by Mary Shelley, first published in 1818 (and revised in 1831). The work focuses on a scientist's quest to create new life from dead matter, and along with Bram Stoker's Dracula, has become one of the iconic horror texts, adapted into dozens of films. The original 1931 film from Universal Studios starred Boris Karloff as the monster.
The term "Frankenstein" initially referred to the monster's creator, scientist Victor Frankenstein. However, following the film's success, "Frankenstein" has been popularly used to refer to the monster. Make-up artist Jack Pierce's design of a square-headed, bolt-necked brute has become the standard depiction of the monster, in contrast to the vaguely described, intelligent creature in the novel.
The cinematic depiction of the Frankenstein monster, and its 1935 sequel Bride of Frankenstein, have frequently been spoofed or referenced in Muppet productions.
References
The design of Mulch is an amalgam of the Hunchback of Notre Dame and the Frankenstein monster. In The Muppets Go to the Movies, Mulch takes on the role of the Frankenstein monster, while on Muppets Tonight, he assumes aspects of the hunchbacked assistant "Igor" as iconicized in films.
In the Halloween-themed "Little Swamp of Horrors" comic from the Fall 1986 issue of Muppet Magazine, Fozzie is transformed into Frankenbear and Piggy becomes the Bride of Frankenstein.
An American Greetings card from the Halloween season of 2006 used recycled images of Kermit and Piggy, spoofing a typical Frankenstein movie poster for the imaginary film "Frogenstein Lives!".
Several Dr. Frankenstein-esque mad scientists, often with monsters, have been depicted in Sesame Street cartoons.
Abby Cadabby attempts to give Leela a princess-like hair style for a party she's going to in Sesame Street Episode 4238. One of her spells puts Leela's hair in a style based on the Bride of Frankenstein.
Cookie Monster and Zoe dress as Frankenstein's monster and his bride in the 2018 Sesame Street web video, "The Cookie Monster Nosh."
Connections