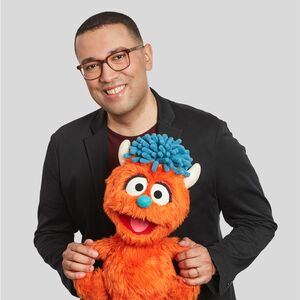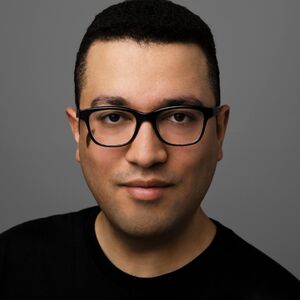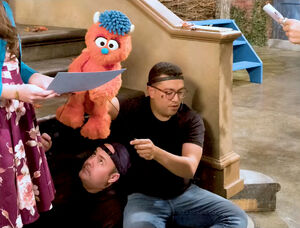 Frankie Cordero (b. February 15, 1982) is a puppeteer and puppet builder who began his association with Sesame Street in 2000, performing ensemble and right-handing work for various projects. He was credited as a builder for Season 46 and became a regular Muppet performer starting in Season 47, with his main character being Rudy.
Prior Sesame work includes several non-consecutive years performing on the Macy's Thanksgiving Day Parade float, the specials Music Works Wonders and Families Stand Together. Cordero also voices Rudy and additional characters for the animated segment Abby's Amazing Adventures. His work with the Jim Henson Company includes the series Julie's Greenroom and voicing Wembley Fraggle in Fraggle Rock: Rock On!.
Cordero's non-Henson credits include work on It's a Big Big World, Oobi, Jack's Big Music Show, Curious Buddies (Nick Jr.), and CSI: Las Vegas. He has also performed in spots for Comedy Central, McDonald's, Hasbro, Playskool, Reese's, Brisk, Jolly Rancher, and Discover Card.
Cordero is also a director/producer/editor for videos, and has produced works for and collaborated with artists such as Tally Hall, Julia Nunes, and The Gregory Brothers. He co-produced Corduroy Cat videos through Frankenstudio with his company partner Ken Berman, and composer Devin Shepherd.
Cordero has also performed as a puppeteer for theater. He toured with groups such as Blair Thomas & Co, Walking With Dinosaurs- The Arena Spectacular! and Dramaton Theater, and performed at many NYC venues, including HERE, La MaMa ETC, Radio City Music Hall, PS-122, Carnegie Hall, and The Metropolitan Opera, where he was one of three principal puppeteers who portrayed "Sorrow," Cio Cio San's 3-year old boy in Anthony Minghella's production of Madama Butterfly.
Among his awards are the 2015 Armstrong Vine Award in Comedy, the 2004 Kevin Clash Scholarship for Puppeteers of Color, and the 2002 and 2004 Jim Henson Memorial Prize in Puppetry, as a student of The University of Connecticut's Puppet Arts Program.
Muppet/Henson credits
Sources
External Links