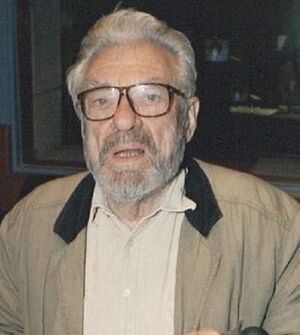 Franz-Josef Steffens (1923-2006) was a German actor who dubbed Telly Monster on Sesamstrasse. He performed the same task for Elmo rettet Weihnachten.
Steffens was a busy voice actor in dubbing, audio drama, and radio. He often dubbed gruff or crusty types, such as Edward Asner in the Elvis film Change of Habit, Jack Elam in two Bonanza TV movies, James Gammon on Nash Bridges, Pat Hingle on Gunsmoke, and Louis Zorich and other character actors on Columbo. He also dubbed guest stars Art Carney on Fame, Bill Cobbs on The Sopranos, and Theodore Bikel on The Pretender. Cartoon roles included Dr. Claw on Inspector Gadget, Duke Nukem on Captain Planet, Badger on The Animals of Farthing Wood, and Waldo on Galaxy Rangers. In album tie-ins to cartoons, he played Bluto in Popeye and various roles in the Asterix series.
In the 1960s, Steffens was a frequent player in WDR radio serials, including the German version of Norman Corwin's Murder in Studio One (as cop O'Hanrahan), Cyril Hare's A Perfect Murder (another policeman), a Paul Temple case, and War and Peace (as the Russian minister of war).
Community content is available under
CC-BY-SA
unless otherwise noted.