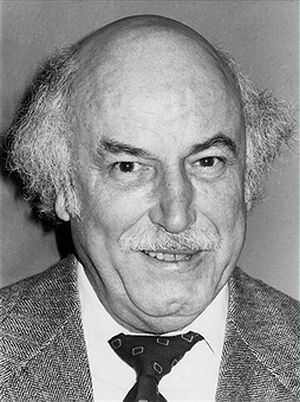 Franz Otto Krüger (1917-1988) was a German voice actor who dubbed Hoggle in Die Reise ins Labyrinth (Labyrinth). He previously dubbed George Burns on Die Muppet Show (The Muppet Show).
Krüger began his career on stage in the thirties but became active in German film immediately postwar, including a principal role in Germany Year Zero (1948). Other films include Kohlhiesels Töchter (with Liselotte Pulver) and the Edgar Wallace "krimi" films The Avenger (1960), The Gorilla of Soho (1968, with Uwe Friedrichsen), and The Man with the Glass Eye (1969). TV included appearances on Percy Stuart, Direktion City, and Tatort.
As a voice actor, Krüger dubbed Telly Savalas in Life is a Ball, Gordon Sterne in Highlander, Geoffrey Bayldon in Charleston, Phil Silvers in It's a Mad, Mad, Mad, Mad World, Sid Caesar in The Cheap Detective, and Michael Hordern in Gandhi.
For TV, he dubbed Dick Van Patten on the Robin Hood sitcom When Things Were Rotten, assorted actors on Alfred Hitchcock Presents, and guest roles (often villains) on Get Smart. Cartoon roles include Flaversham in The Great Mouse Detective, Professor Calculus in Tintin and the Temple of the Sun, Puss in Boots in Mr. Rossi Looks for Happiness, and parts in various anime.
External links