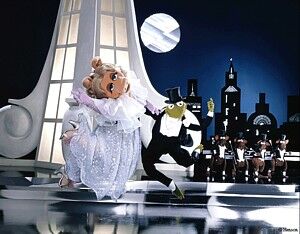 Fred Astaire (1899-1987) was a film and Broadway stage dancer, choreographer, singer and actor. He is particularly associated with Ginger Rogers, with whom he made ten films (the most famous being Top Hat). His unparalleled skill as a dancer has led many critics to cite him as the best dancer ever to come out of Hollywood.
In 1966, Astaire hosted an episode of The Hollywood Palace and introduced Kermit performing "The Glow-Worm" sketch.
References
During the dance marathon in The Muppet Show episode 515, First Mate Piggy is eaten by a hungry alien (Mean Mama). Gonzo warns Piggy that if she stops dancing, she'll be disqualified from the contest. As Piggy dances inside the alien's stomach, Gonzo sighs, "Fred and Ginger were never better."
In Episode 3608 of Sesame Street, Sherry Netherland needs a dance partner. On the phone, she chats with her partner Fred, who cancels on her to dance with Ginger instead.
In Episode 4003 of Sesame Street, Super Grover does a National Bird Day dance with Big Bird. When Big Bird leaves, Grover cries out, "Do not leave me alone. I feel like Ginger without Fred!"
Sources
External links