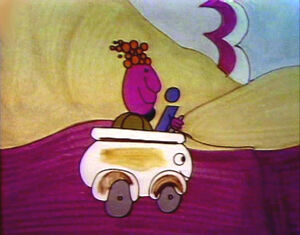 Fred Calvert is an animation director and producer, whose animation company was Fred Calvert Productions (later renamed Farmhouse Films). Calvert was the first animator whose work was showcased on Sesame Street, specifically those segments produced with Ken Snyder Enterprises.[1] Among the animated pieces from Fred Calvert Productions were "Bumble Ardy" and "Seven Monsters," both of which were collaborations with Jim Henson and Maurice Sendak.[2] He supplied voices for some of his segments, as did wife Kimie Calvert (also an animation artist) and son Philip Calvert (in children's roles).[3] He produced the "monolith" segments, based on 2001: A Space Odyssey, used on The Electric Company, and two related segments appeared on Sesame Street.
Prior to Sesame Street, Calvert worked with Ken Snyder as production coordinator on Roger Ramjet and directed "Super Chicken" segments for Jay Ward. At his own studio, he produced commercials as well as animated series and specials based on pop culture personalities and TV shows: Emergency+4 (based on Emergency), the Muhammad Ali cartoon I Am the Greatest, and specials featuring the Munsters and Nanny and the Professor. One of his studio's later projects was supplying additional animation for the Miramax release of Richard Williams' unfinished animated feature The Thief and the Cobbler.
Sources
Community content is available under
CC-BY-SA
unless otherwise noted.