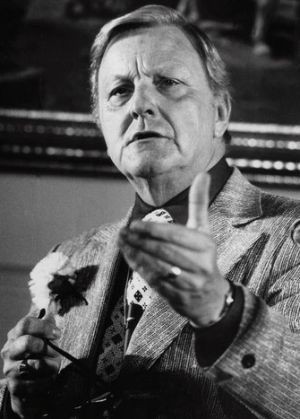 Fred Foy (1921-2010) was a radio and television announcer, best known for his long radio stint announcing The Lone Ranger. Foy was the regular off-stage announcer for The Dick Cavett Show, including introducing the Muppets for their 1971 guest appearance ("And special guest star, the Cookie Monster.")
Foy began his radio career in Detroit at station WMBC, but service in World War II proved an interruption. He continued to announce for Armed Forces Radio Service and USO broadcasts (including a special Jack Benny installment from Cairo). After discharge, Foy spent a brief stint as radio announcer/actor in Hollywood. He returned to Detroit and joined station WXYZ, where The Lone Ranger originated. Foy provided the opening Lone Ranger announcement ("Return with us now to those thrilling days of yesteryear!") and narrated the stories, from 1948 until 1956, and filled in as the Ranger himself on the 1954 episode "Burly Scott's Sacrifice" (when star Brace Beemer had laryngitis). While at WXYZ, he spent announcing stints on The Green Hornet and Challenge of the Yukon as well.
After The Lone Ranger ended, Foy joined ABC in New York City as a staff announcer, including promos, TV game shows, and radio documentaries. He announced the short-lived radio drama revival Theatre Five (1964-1965) and was heard in trailers and promotional documentaries for MGM, as well as commercial campaigns. He had a cameo as a mayor in the 1981 film The Legend of the Lone Ranger but was cut before release. Foy was a frequent guest at old-time radio conventions.
External links
Community content is available under
CC-BY-SA
unless otherwise noted.