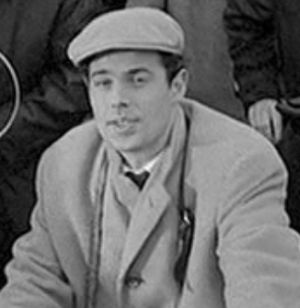 Fred Klaus (1924-2005) was a German voice actor who dubbed Clueless Morgan in Muppets Die Schatzinsel (Muppet Treasure Island) and the German dub of Muppets Tonight. He also dubbed Yves Kakerlak von Küchenschabe on Jim Hensons Animal Show mit Stinky und Jake (The Animal Show) and guest stars on Die Muppet Show (The Muppet Show), including Ben Vereen and Wally Boag.
Klaus performed on radio in the 1950s and in German film and TV in the 1960. He played a reporter in The Green Archer (Der grüne Bogenschütze, with Wolfgang Völz), one of the Edgar Wallace "krimi" films, and played a bartender in an episode of Das Kriminalmuseum (1967). He was a frequent dubbing voice of George Takei as Sulu in Star Trek projects, including the original series, the animated series, Star Trek VI: The Undiscovered Country, and Star Trek: Voyager, and dubbed Takei as himself in a cameo on V.I.P.
Klaus lent his voice to a range of actors in kung-fu movies and also dubbed Jon Polito in Stuart Little, E. E. Clive in The Invisible Man, and Paul Gleason in Trading Places. TV dub roles, outside of Star Trek, included dubbing Peter Lupus on Mission: Impossible, Willie Nelson on Dr. Quinn, Medicine Woman, and Burt Bacharach on The Nanny. In animation, he dubbed Bleeding Gums Murphy and others on The Simpsons, Fin Fang Foom on Iron Man, and parts on the anime series Heidi and The Wonderful Adventures of Nils.
External links