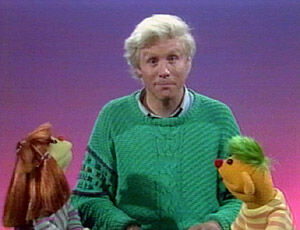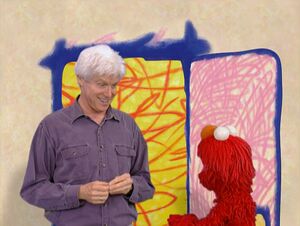 Fred Newman (b. 1952) is an actor and writer known for his vocal sound effects, creating assorted pops, clicks, whirs, and animal noises unaided. His official bio refers to his early work "as an actor, a writer, and a fairly inept puppeteer with Jim Henson."
Newman's first work with the Muppets was as a writer for Muppet Magazine. During this time, he provided content for celebrity interviews, as well as artwork for the Muppet Labs features. In 1984, he co-wrote the stage show The Muppet Show On Tour along with Mark Saltzman.
In 1987, Newman played the leading role of puppeteer Gary on the sitcom pilot Puppetman, and performed the puppet characters Butane and Candle, as well as the full-bodied character Clyde. He appeared as himself in Neat Stuff To Know & To Do in 1988, showing Kai-Lee and PJ how to make mouth sounds. He later supplied the voice of Varch for one episode of Aliens in the Family.
On Sesame Street, Newman provided additional animal sounds for a pair of "Pretty Great Performances" sketches.[1] In 2007, Newman appeared with Elmo in the "Mouths" episode of Elmo's World to demonstrate things that people can do with their mouths.
Featured mostly as a voice actor, Newman has provided voices in such productions as Who Framed Roger Rabbit, Gremlins, and the TV cartoon Doug (which co-starred Fran Brill). Newman was also one of the hosts of MMC (which featured a young Britney Spears and Justin Timberlake), and lent his voice for the Wonder Woman book, Cheetah On the Prowl. Newman worked on the non-Henson puppet series Between the Lions as a writer, voice actor, and on camera in Sesame Street-esque "Fred Says" segments, demonstrating phonics concepts.
Author of the book Mouth Sounds, an instructional guide to creating vocal sounds, Newman was resident vocal sound effects man on Garrison Keillor's radio series Prairie Home Companion for several years.
In 2008, Newman starred as himself in another puppet series, Lomax, the Hound of Music.
Sources
External links