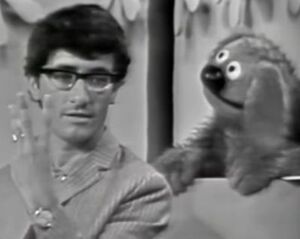 Freddie Garrity (1936-2003) was lead singer and founder of the pop band Freddie and the Dreamers. Known for his eccentric movements (running and leaping about during numbers), Garrity's group began in 1963, and when their success in England began to decrease, they came to the United States of America during the British invasion.
Garrity appeared on the July 21, 1966 broadcast of The Mike Douglas Show. He played charades with co-host Rowlf, Mike Douglas, and fellow guests Marty Allen and Hermione Gingold. At the show's end, Freddie and the Dreamers performed a song, while Mike, Marty, and a Muppet (all in curly wigs) mimed the backup vocals from the Muppets' stage wall.
Community content is available under
CC-BY-SA
unless otherwise noted.