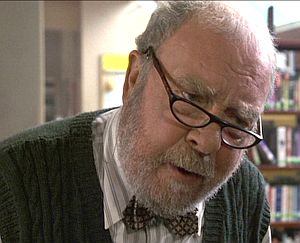 Freddie Jones (1927-2019) was a British character actor who appeared in the Creature Shop-effects film The Neverending Story III as Mr. Coreander and (in heavy make-up) the Old Man of Wandering Mountain.
From the 1960s onward, Jones was a frequent player in British horror films, often playing either eccentrics, obsessives, or mad scientists. He co-starred in the Hammer movies Frankenstein Must Be Destroyed (as a professor who becomes the victim of a brain transplant, and thus the film's monster) and The Satanic Rites of Dracula (as a demented scientist controlled by Christopher Lee's Dracula). Other genre titles included The Man Who Haunted Himself (with Roger Moore), Assault, and the spoofs Old Dracula and Son of Dracula (1977, as Dr. Frankenstein). In between, Jones appeared in more high-brow fare, such as Far from the Madding Crowd, Kidnapped (with Michael Caine), Antony and Cleopatra (as Pompey, with Charlton Heston), and Zulu Dawn (with Burt Lancaster). In 1980, director David Lynch cast Jones as the abusive freakshow manager in The Elephant Man. Jones worked with Lynch again in Dune (as Thufir Hawat), Wild at Heart, an episode of the sitcom On the Air, and the miniseries Hotel Room.
Jones' other film credits include Fellini's E la nave va (as the reporter/narrator Orlando), Firefox (as Clint Eastwood's associate), Terry Jones's Erik the Viking, Young Sherlock Holmes, the 2002 version of The Count of Monte Cristo (as Colonel Villefort), and a voice role in Disney's The Black Cauldron. On television, Jones starred as Claudius on the series The Caesars in 1968, played a key role in Dennis Potter's miniseries Pennies from Heaven (as headmaster Mr. Warner), and was regular on the soap opera Emmerdale (as Sandy Thomas) from 2005 until 2018. He hadguest spots on The Avengers, The Saint, The Young Indiana Jones Chronicles, Lovejoy, and The League of Gentlemen.
External links
Community content is available under
CC-BY-SA
unless otherwise noted.