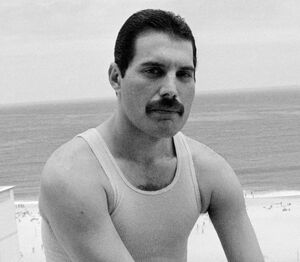 Freddie Mercury (1946-1991, born Farrokh Bulsara) was a British musician, best known as the lead singer of the rock band Queen.
References
claims in Muppets Tonight episode 201 that he can get ideas for songs anywhere, even from the Commissary. Scoffing, Rizzo supposes that they all must be food-themed, like "Another One Bites the Crust", a reference to the Queen song "Another One Bites the Dust".
On his website in December 2009, Queen's lead guitarist Brian May talked about the band's involvement in the video, and gave his thoughts on what Mercury would have thought about the collaboration, stating:
"Once the idea for this recording came up, we did supply 'stems' of our own original backing track to the Muppets, so that they could effectively 'sing' with Queen. We don't often do this - it's only because of our respect for these people as artists that we'd do this. I'm sure Freddie would feel the same way ... some projects are just worthy of a proper collaboration. So .. yes .. you are hearing us play on this track - including Freddie's magnificent piano track, of course. I think it makes it all the more funny! After they'd done their bits we got the track back to OK ... I immediately thought it was brilliantly done, but I had no idea it would light such a huge bush fire. Amazing."
When the Muppets won The Webby Award in 2010 for "Bohemian Rhapsody", Floyd Pepper's 5-word acceptance speech was, "Another Webby Bites the Dust".
Miss Piggy recorded a special video in celebration of the late artist's 65th birthday. It was posted on Queen's official YouTube account on September 1, 2011.