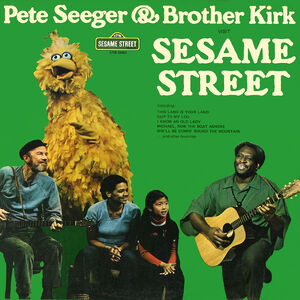 Reverend Frederick Douglas Kirkpatrick (1933-1987) was a civil rights activist and folk singer, sometimes known as Brother Kirk. Kirkpatrick worked as a director in various human rights organizations, including the Poor People's Campaign for Jobs and Income in Washington, D.C.
In 1972, Kirkpatrick appeared on Sesame Street in Episode 0362 singing songs about black history and the environment. Two years later, he and Pete Seeger recorded a Sesame Street album titled Pete Seeger & Brother Kirk Visit Sesame Street, singing with Big Bird, Oscar and the Kids. The album featured mostly traditional folk songs, as well as more then-contemporary songs (notably "The Ballad of Martin Luther King"), some of which he had previously done on the show.
Kirkpatrick returned to the Street in Episode 0719, which aired in January 1975. In this appearance, he sang "The Animal Song" with Sam the Robot and the Kids.
Community content is available under
CC-BY-SA
unless otherwise noted.