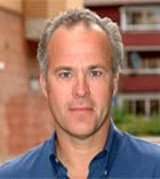 Fredrik Dolk (b. 1961), born Gustav Fredrik Dolk, is a Swedish voice actor who dubbed K. Edgar Singer, Dr. Teeth, and Scooter in Mupparna i rymden (Muppets from Space). He also dubbed Uncle Albert in Fem Barn Och Ett Sandtroll (Five Children and It).
Dolk started acting while he was attending a high School in America in 1977. There he played a role in Cat on a Hot Tin Roof among others. When he returned to Sweden he took a few acting lessons, but decided to study astronomy and worked as a tour guide. In the 1980s, he took up acting again and was hired at various theaters and started to study acting at School of Performing Arts in Göteborg. Since his graduation, he has been seen at Dramaten and Helsingborgs city theater.
His first major Swedish TV role was as the unpleasant president of a record company on the 1994 series Solo. Other TV and film credits include Livvakterna, Noll tolerans and Offer och gärningsmän. He appeared in two episodes of the crime series Wallander and one episode of the British version under the same name (with Kenneth Branagh). He played Inspector Peter Kroon in the Johan Falk series of crime movies and had a small role in the 2011 English-language film The Girl with the Dragon Tattoo.
As a voice actor, Dolk has dubbed cartoon roles on Batman: The Animated Series (as Mr. Freeze, Harvey Bullock, Killer Croc, Clock King), Superman and Justice League (Superman), the Toy Story movies (Buzz Lightyear), Monsters vs. Aliens (General W. R. Monger), Quest for Camelot (King Arthur), and Smurfs: The Lost Village (Vanity). Live actors dubbed by Dolk include Michael Jordan in Space Jam, George Clooney and Bill Paxton in the Spy Kids movies, Kenneth Branagh and Brendan Gleeson in the Harry Potter series, and Timothy Dalton in Looney Tunes: Back in Action.
External links
Community content is available under
CC-BY-SA
unless otherwise noted.