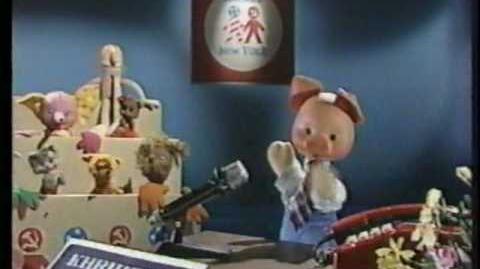 Free to Be... a Family was a television special produced and hosted by Marlo Thomas. A sequel to Thomas' acclaimed 1973 special Free to Be... You and Me and part of a multimedia project, the special was a co-production with Soviet Russia and aired over ABC on December 14, 1988. While the special included some material from the book and album which preceded it (such as Carly Simon's performance of "Turn of the Tide"), the emphasis shifted from individual family relations to the global family. In particular, the special aimed to demonstrate that children in Russia and America were very much alike, and kids in both nations were encouraged to form penpal relationships. In the final special, through satellite, Soviet and American children met their penpals and asked about their respective countries.
The hour-long special cuts between Thomas and friends at the Hard Rock Cafe at New York City and a Moscow studio, with Tatiana Vedeneyeva as the local host (the satellite connection is handled by Lily Tomlin as Ernestine). Jim Henson's Muppets are among the guest stars, appearing in both cities, with Kermit the Frog and Miss Piggy receiving specific billing. A few Sesame Street Muppets make brief appearances as well, namely a pair of Honkers, Meryl Sheep, and Elmo. The latter is fleetingly glimpsed in a video montage, seated on the shoulder of a baseball player who holds a sign displaying a Russian greeting in marker.
Other US participants include Robin Williams, Whoopi Goldberg, Jon Bon Jovi, and Penn and Teller.
Kermit and Piggy appear initially in the program as ambassadors to Russia, where Kermit and Russian TV puppet star Khriusha the Pig (from Spokoynoy nochi, malyshi!) hammer out the details of producing the special. Later, a passing Honker gives Marlo Thomas a quarter for their satellite truck's parking meter.
This is followed by "Pig to Frog," a segment where Kermit and his "distinguished" panel of Americans (including Miss Piggy, Meryl Sheep, the Honkers, a penguin and some Whatnots) talk to Khriusha and his panel of Russian characters while playing short films on the struggles of living in each country. The Russians' tape of American life stars a down on his luck bear (played by Kevin Clash).
After the special, an American Airlines promo is shown where Muppet Monsters Miss Kitty, A green-furred Frackle and Thudge coming out of the aeroplane.
Credits
Executive Producers: Marlo Thomas and Christopher Cerf
Producer: Robert Dalrymple
Director: Gary Halvorson
Writers: Norman Stiles, Sarah Durkee, Christopher Cerf
Muppet Segment Producer: Michael K. Frith
Muppet Production Assistants: Eric Andrews, Patricia Nugent
Muppet Performers: Frank Oz, Kathy Mullen, Richard Hunt, Kevin Clash, Marty Robinson, Pam Arciero, Bruce Hall, Paul Hartis, Peter MacKennan, Shari Weiser, Camille Bonora, and Jim Henson
Musical Director: Paul Jacobs
External links
Community content is available under
CC-BY-SA
unless otherwise noted.