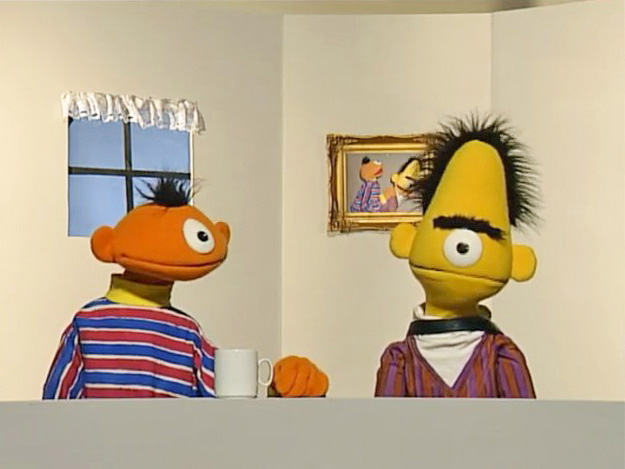 Freitag Nacht News is a German adult comedy series.
Muppet Mentions
Bernie und Ert was a recurring sketch on the show created by Attik Kargar, who performed the puppets and supplied the voice of Bernie. Bernie and Ert are an obscene parody of Bert and Ernie on Sesame Street, and especially as re-dubbed on Sesamstrasse. The pair are a same-sex couple, with no nose and one eye each. Each sketch focused on such topics as crime, drug abuse (Bernie is a cocaine addict), and S&M practices. In February 2003, Bernie and Ert were dropped from the series because of legal concerns; however, older episodes circulate on the Internet. The characters lived on and appeared in another recurring sketch called Popo Club in where they wear S&M gear and go by the names Unknown No. 1 and Unknown No. 2. These versions of the characters later appeared in the German adult puppet series Eye TV – Der durchgeknallte Puppensender and two spin-off web series.
Lindenstrasse Ecke Sesamstrasse, a spoof in which Sesamstrasse is blended with the soap opera Lindenstrasse.
Community content is available under
CC-BY-SA
unless otherwise noted.