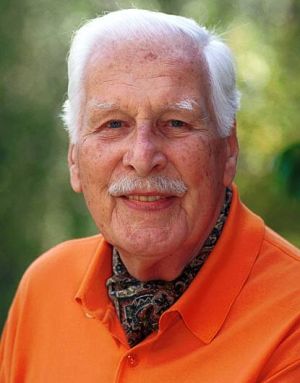 Friedrich Schoenfelder (1916-2011) was a German voice actor who dubbed the Wiseman in Die Reise ins Labyrinth (Labyrinth). For Die Dinos (the German dub of Dinosaurs), he voiced Judge D. X. Machina in "Earl's Big Jackpot."
Schoenfelder acted on the German stage beginning in the 1930s (and later originated Colonel Pickering in the German premiere of My Fair Lady) and on radio from 1946 (as ship's steward Scrubby in the play Outward Bound). He entered dubbing in the 1950s, where his precise diction and light tones lent itself to narration as well as to cultured gentleman figures (often British). These included David Niven, Rex Harrison in My Fair Lady and elsewhere, Vincent Price (starting with While the City Sleeps), David Tomlinson (in Mary Poppins, The Love Bug, and Bedknobs and Broomsticks), John Gielgud (including Murder on the Orient Express), Peter Sellers as the precise Capt. Mandrake in Dr. Strangelove, Peter Cushing (including Star Wars and Hammer's Frankenstein movies), Michael Gough (in Hammer's Dracula and as Alfred in the Batman movies), E. G. Marshall in 12 Angry Men, and William Powell in The Thin Man film series.
Animated roles include Pepe le Pew in Looney Tunes shorts, Dr. Dawson in The Great Mouse Detective, the Emperor in Mulan, the narrator in Beauty and the Beast, Doc Hudson in Cars, and God in the German animated feature Stowaways on the Ark. For television, Schoenfelder dubbed Marlin Perkins on Wild Kingdom, Richard Mulligan on Empty Nest, David White on Bewitched, Gale Gordon on The Lucy Show, and Walt Disney in various Disney anthology episodes. He was also a busy actor on-camera, including the Edgar Wallace krimi films, the 1987 Otto Waalkes comedy Otto - Der Neue Film (cast to type as a professor), and the English-language films De Sade (as the Marquis' father) and The Magician of Lublin (with Alan Arkin).
External links