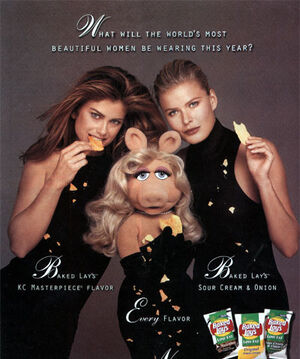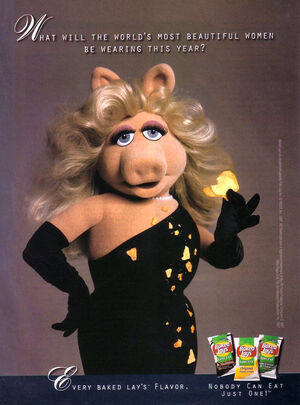 Frito-Lay is a maker of corn and potato chips (or crisps) and other snack foods, such as Munchos.
In a promotion for the release of The Muppets Take Manhattan, Frito-Lay sponsored a promotion which featured T-Shirts, hats, and cups.[1]
Baked Lays
In 1996, Miss Piggy was featured in an advertising campaign with supermodels Kathy Ireland and Vendela. (Kathy Ireland appeared on Jeopardy in 1997 to give out a clue regarding these commercials.)
One commercial features the two models lounging by the poolside when they discover that their bag of chips is gone. Piggy is shown to have taken their supply and breaks into a munching/mumbling rendition of "The Girl from Ipanema."
Another commercial, titled "Surprise Party", shows Miss Piggy trying to attend a party. Yet the festivities are being kept secret from the pig for the fear of her going to "hog" the chips... until she makes her surprise entrance, kicking the door in. Richard Lewis appears.
A third commercial, premiering during the Super Bowl, features the trio of supermodels in a fancy restaurant as Miss Piggy woos a handsome stranger (Antonio Sabàto, Jr.) until he dares to eat her bag of chips and goes flying out, or rather directly through the door.
Print ads also featured the three ladies with chip crumbs covering their attire.
References
When Bunsen and Beaker are left behind at the gas station in Muppets from Space, Bunsen is seen holding bags of Fritos, Lays Potato Chips, and Crunchy Cheetos, among other snacks. A bag of Lays was assumed to have been shared with Rainbow on the way to Cape Doom.
In the Muppets Now premiere episode "Due Date," Uncle Deadly aides Miss Piggy in taking photos of her to post on Instagram. Walter phototbombs the star, while she is in the middle of a product placement scheme for the Lay's parody brand "Let's" chips, hashtagging the photo #SendMeLifetimeSupplyOfChunkyChips.
Sources
Community content is available under
CC-BY-SA
unless otherwise noted.