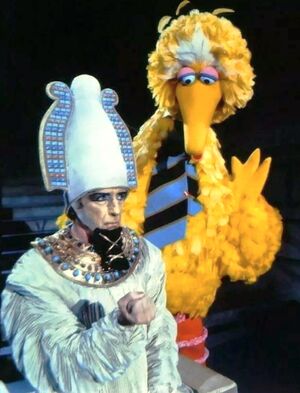 Fritz Weaver (1926-2016) was a lean dramatic stage actor who successfully transitioned to television and film. He made a cameo appearance in the Sesame Street special Don't Eat the Pictures as the Egyptian god Osiris.
Weaver's classical theater training (playing everything from Hamlet to Sherlock Holmes) often led to parts as aristocratic tyrants, or desperate men on the brink. He won the Tony award for Best Actor in the 1970 Broadway play Child's Play (opposite Pat Hingle). His TV career, which spanned five decades, includes appearances on The Twilight Zone (in two different episodes, notably as the smug totalitarian Chancellor in "The Obsolete Man"), Gunsmoke, The Fugitive, Mission: Impossible, Wonder Woman (as the maniacal Dr. Solano in "The Return of Wonder Woman"), Star Trek: Deep Space Nine (as galactic attorney Korvat in "Tribunal"), Law & Order, and The X-Files. His most substantial TV role was as concentration camp prisoner Josef Weiss in the 1978 miniseries Holocaust.
Weaver's film debut came with the 1964 thriller Fail Safe (a less humorous counterpart to Dr. Strangelove), as the erratic Col. Caserio. Subsequent movies ranged from Marathon Man (as Professor Biesenthal) to the exploitative Demon Seed (as a scientist who inadvertently invents an evil rapist computer), plus a supporting cameo in The Thomas Crown Affair (with Pierce Brosnan). In later years, Weaver was a frequent narrator on The History Channel.
External links