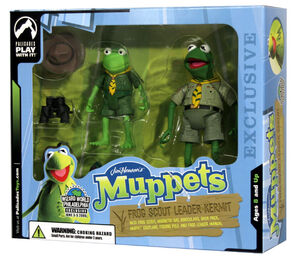 Released: Spring 2005
Articulation: Neck, ball jointed shoulders, biceps, waist, hips, legs (for both Kermit and Frog Scout packin)
Accessories: Frog Scout pack-in figure, magnetic hat, fishing pole, backpack, Frog Scout Leader manual, binoculars, Muppet eggplant
This exclusive figure of Kermit as a Frog Scout leader was made by Palisades Toys for the Jim Henson's Muppets action figure line. It was sold at Wizard World Philadelphia and through the Collectors Club.
Frog Scout Leader Kermit fit with the Frog Scout Robin Action Figure from series 7. A few of the accessories, like the backpack and the booklet, were recycled from the Robin figure. The binoculars originally came with the Pepe Action Figure. The Muppet eggplant was also included with The Rainbow Connection Kermit Action Figure.
The young Frog Scout that was packed in with Kermit had the same body sculpt as Robin, with a different head. The head sculpt was based on Gawain from The Frog Prince. Two different Frog Scouts were made, a green one and a blue one. Thus, Collectors Club members would receive one or the other at random.
External links