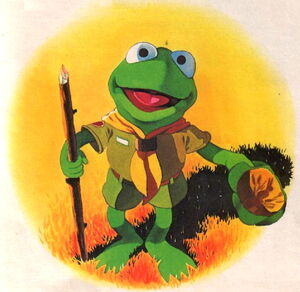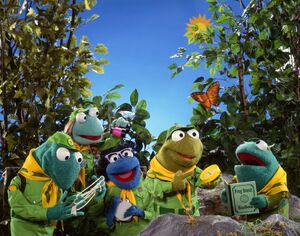 The Frog Scouts are a troop of young frogs who perform on The Muppet Show as The Precision Drill Team from the Okefenokee Pack 12 of the Frog Scouts of America. Robin the Frog is a member, Mrs. Appleby is their pack leader, and Ms. Ribit is their camp counselor.
The Scouts have been seen in a number of different forms over the years.
The Frog Scouts troop made their first appearance on The Muppet Show in 1980, in The Muppet Show episode 509, where they earned their punk merit badges with a little help from guest star Debbie Harry.
Robin appeared in his Frog Scout uniform on the cover of the 1983 coloring book Muppet Hobbies.
The Scouts appeared in audio-animatronic form in a live attraction, The Muppet Traffic Safety Show, which toured malls and auto shows in the late 80s.
The 1991 anthology book Off to Storyland features the story "Robin and the Most Beautiful Bug" with Ms. Ribit as the Frog Scout camp counselor.
Robin and the Scouts appeared with Scout Leader Kermit in the 1993 book Off to the Woods!
The Frog Scouts were featured in recurring sketches as part of the Muppet Time inserts on Nickelodeon in 1994.