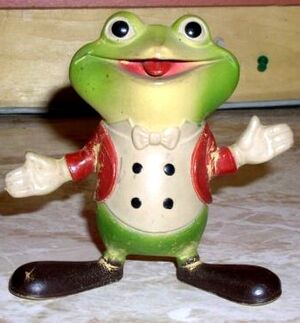 Froggy the Gremlin was an early amphibious star of radio and television. Created by Smilin' Ed McConnell in 1944, Froggy was a regular on Smilin' Ed's Buster Brown Gang, a popular children's series melding adventure serials, letters, Buster Brown shoe commercials, and conversations between McConnell and his imaginary friends. The unquestionable star of the menagerie was Froggy, an invisible creature who, upon plucking his "magic twanger," would manifest. The mischievous Froggy badgered intellectual guests, and his trademark was repeating himself: "I'm going to sing now, I will, I will, I will."
The croaky-voiced Froggy would interrupt assorted stuffed shirt "experts," such as Alkali Ike the miner or exercise coach Jim Nasium, and offer subliminal suggestions, which would be incorporated into the lecturer's routine. McConnell voiced the character when speaking, while announcer Archie Presby doubled as Froggy for duets, dressed in frog regalia, leaping out to the delight of the studio audience.
In 1950, the series jumped to television, and Froggy was represented by a rubber-style puppet figure (usually voiced by Presby). When McConnell died in 1955, the series was renamed Andy's Gang, with actor Andy Devine taking over as host. Froggy remained his same, rambunctious self, despite his inability to physically do more than wobble around. He was a popular fixture until the series ended in December 1960, and even surfaced in Buster Brown comic books (cheerfully planning to burn books or waiting for a tandem bicycle to crash).
In his 2006 memoir Before You Leap, Kermit the Frog pays tribute to Froggy, as one of the "only on-screen amphibian stars." Kermit speculates that while Froggy was clearly a frog, he adopted "the Gremlin" moniker to "avoid being greenlisted." He goes on to describe Froggy as "a trickster and practical joker... Although that isn't exactly my cup of swamp water, his performance convinced me that maybe, just maybe, a frog could be a star too."[1]
Sources
↑ Frog, Kermit the. Before You Leap. Des Moines: Meredith Books, 2006. p. 27-28.
External links
Community content is available under
CC-BY-SA
unless otherwise noted.