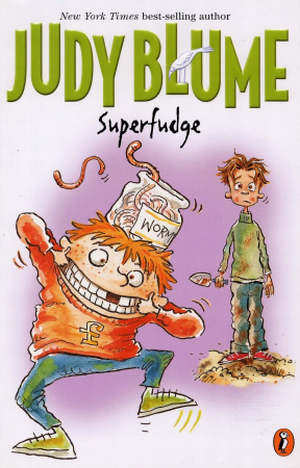 Fudge is the collective name for a series of children's books by Judy Blume, and also the name of the principal character. In her 1972 book Tales of a Fourth Grade Nothing, Blume introduced nine-year-old Peter Hatcher and his younger brother, Farley Drexel, nicknamed "Fudge." Fudge became the star with the 1980 sequel, Superfudge. This led to two more books, Fudge-a-Mania (1990) and Double Fudge (2002), as well as a 1995 ABC television series, simply titled Fudge. Each of the Fudge books to date has included Muppet/Sesame Street references.
Superfudge
Fudge watches a bit of Sesame Street near the beginning of the first chapter. He then imitates Ernie and Bert's voices, first at Peter while washing his hands, and then again at the dinner table.
Later, while discussing the old stork myth (since Peter's mother is pregnant), Fudge asks if it is like Big Bird.
While eating lunch with his new friend, Fudge mentions that he watches The Muppet Show, Sesame Street and The Electric Company. Because the book was printed in 1980, this was edited in later (post-2003) reprints of Superfudge, where Fudge now mentions that he watches Nickelodeon and Cartoon Network.
Fudge-A-Mania
Fudge imagines marrying Peter's rival, Sheila Tubman. Fudge says that some people marry birds. Peter asks him to name one. Fudge says, "The guy who's married to Big Bird on Sesame Street." Peter says that Big Bird's not married. Fudge then says to Peter, "That's how much you know!"
Double Fudge
When Peter's long-lost relatives come to visit, his twin cousins Flora and Fauna are allowed to sleep over with Sheila Tubman, but their father (Cousin Howie) does not allow them to watch TV. But then the twins' mother, Cousin Eudora, suggest that maybe they could watch Sesame Street. Fudge mentions that his baby sister, Tootsie, watches Sesame Street. Sheila says, "We've all watched Sesame Street."
Connections
David Rudman performed Marty in the 1991 ABC Weekend Special adaptation of the Fudge book Otherwise Known as Sheila the Great.
Community content is available under
CC-BY-SA
unless otherwise noted.