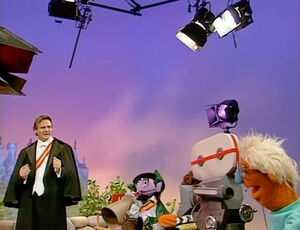 "Fuhgeddaboudit" is an eye dialect spelling of "forget about it," representing its pronunciation in a New York City or New Jersey accent. The phrase's usage in Sesame Street productions is often in reference to its association with the show's longtime cameraman Frank Biondo.
Appearances
Rock & Roll!: An announcer (Martin P. Robinson) introduces "The Sesame Street Rock 'N' Roll Request Show," adding, "It's gonna blow you away, so fuhgeddaboudit!"
Sesame Street Episode 3358 (scene 1): The letter A says this in response to Z when she demands to be the first letter in the alphabet.
Let's Make a Word: In the "Building Site" level of the PC game, a man with a hard hat turns toward the player and says the phrase when the player clicks on his hat as the wrong answer.
Elmo Saves Christmas: In one scene, Santa's elves are taken aback when their toy machine restarts, meaning that it will be Christmas again. Amongst the confusion, a Green elf (Fran Brill) asks, "What about my vacation?!", to which a Pumpkin elf (Martin P. Robinson) blurts out the phrase in response. The latter elf utters the phrase again in a later scene, when Santa Claus grills the elves about their newly-created "Moo-Bunny."
Sesame Street Episode 3799 (scene 5): Maria, anticipating to resolve a disagreement between Big Bird, Elmo, and Zoe, arrives at the scene with the three having already agreed to play catch. Maria had hoped to play the "Chucky Choosing" game to help them decide. The three reply by saying the phrase in unison.
Honorable Mentions
In a 2019 web video, where Big Bird tries to reconcile a disagreement between Boston Red Sox manager Alex Cora and New York Yankees manager Aaron Boone, Big Bird suggests that it would be "wicked cool" (turning to Cora) if they "forget about it" (to Boone) and respect each other.
External links
Community content is available under
CC-BY-SA
unless otherwise noted.